LeAnn Rimes: Out Of Treatment And Back On Stage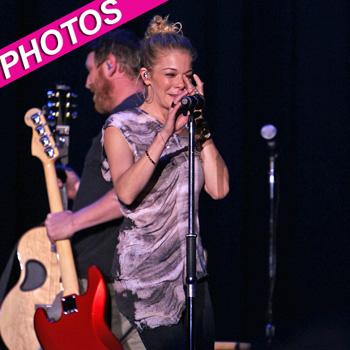 Well, that was fast! Only eight days after announcing she had "entered a 30 day in-patient treatment facility to cope with anxiety and stress," LeAnn Rimes was back on stage performing Friday night.
LeAnn appeared at the Regional Arts Center in Eau Claire, Wisconsin. She'll be on stage in Iowa Saturday night and Indiana on Sunday.
'I'm totally cool and so happy. I think I'm about to cry," LeAnn told her audience as she wiped away a tear.
Article continues below advertisement
Her 70-minute show went off without a hitch even when she confessed to fans, "I'm pissed off at a lot of things, and I just can't say it. So, it comes out in the music."
It also comes out on Twitter.
As RadarOnline.com has been reporting, the country singer became so angry at one of her Twitter followers, she phone her to give her a piece of her mind. The woman, a school teacher, allegedly recorded the call and now LeAnn is suing her for invasion of privacy.
And even though we've also reported that LeAnn's husband Eddie Cibrian "hates Twitter and doesn't want LeAnn to be on there and writing so much," she was right back to the social media site within minutes of coming off stage.
"Thanks to all my wonderful fans in Wisconsin. You showed me an amazing amount of love and respect tonight. Love you always," LeAnn wrote.
Rimes told her audience she'll be returning to Treatment after this weekend's shows.