LeAnn Rimes Looking Super Skinny For Katie Couric Interview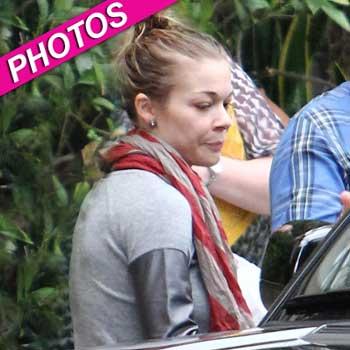 Wearing super skinny red jeans, no make-up and with her hair messily pulled into a pony tail, LeAnn Rimes checked into the Four Seasons at Beverly Hills for her one-on-one with Katie Couric on Saturday.
The singer had a lot to talk about with the talk show host.
Her recent stint in a treatment center where she sought help for "stress anxiety" is probably tops on the list, along with her weight, her near-obsession with Twitter, the state of her marriage and her feud with her husband's ex-wife.
Article continues below advertisement
As RadarOnline.com reported, LeAnn had convinced herself Eddie was cheating this summer before she checked into treatment.
And Twitter is at the heart of a lawsuit the singer's filed against a school teacher who Rimes claimed defamed her on the social networking site.
It's something that has reportedly always caused a strain in her relationship with Cibrian, who was recently spotted without his wedding ring.
MORE ON:
Celebrity Justice
LeAnn Rimes Recovering From Massive Infection After 'Dental Nightmare'