LeAnn Rimes On Why She Sought Treatment: 'It's Really Hard To Deal With Twitter And Facebook'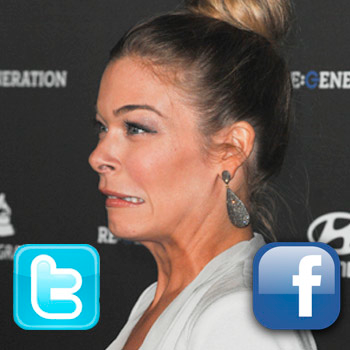 LeAnn Rimes is out of rehab, and isn't shy about sharing her wisdom from the experience.
The 30-year-old country singer opened up to The Boston Herald's Inside Track about her treatment for "stress" and "anxiety" in her first post-rehab interview, and RadarOnline.com has the details.
"I think it's really hard to deal with Twitter and Facebook and all these social media outlets," LeAnn, who checked into a facility after a Twitter war with one of her followers imploded, told the Track. "And it's hard to take it day after day of reading and seeing things that someone you don't even know says about you. As much as you said you don't want it to penetrate, it does, because you're human."
Article continues below advertisement
The country star, who has dealt with a lot of drama her entire life, from being estranged from her manager father in her younger years to her cheating scandal with now-husband Eddie Cibrian, isn't shy about admitting that she has been seeking outside help to deal with her issues for several years.
"I've been in therapy my whole life," she revealed. "I like going. I like being able to have that third-party input and someone to listen that has nothing to do with your life. Everyone has an opinion of how I am and how I should be, and now I'm focusing on how I want to be."
And though most people dread turning the big three-oh, LeAnn claims she was ready to bid her twenties goodbye.
"I had some wonderful times in my 20s, but your 20s are hard. It was a lot of learning experiences ... and a lot were thrown at me publicly. I was ready to embrace 30."
"I have felt like I've had a piece of tape over my mouth the last four years," she added, "I wanted to start the next 30 years of my life on a great foot."