Exclusive
Tweet That 'Proves' LeAnn Rimes Was Bullied Was Faked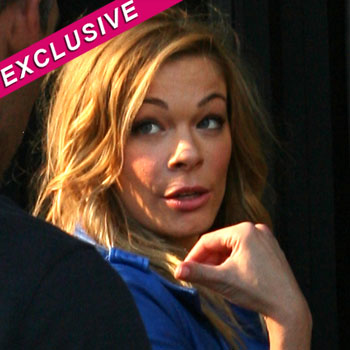 Article continues below advertisement
One problem: the tweet was never sent to LeAnn and RadarOnline.com has the proof.
The man it was sent to admitted to RadarOnline.com in an exclusive interview two weeks ago that he received that exact tweet from Smiley after engaging in a cyber war.
What's more, Smiley tells RadarOnline.com that she sent the tweet to that man because she believed he was endangering her four special-needs children by broadcasting where they go to school - a fact confirmed by RadarOnline.com, which has SIX tweets sent by the man. Those tweets clearly are intended to expose the location of the Smiley children's school and include the names of their programs and her supervisors.
"I will fight to the death for my children," Smiley told RadarOnline.com in an exclusive interview about the tweet. "This man posted information that made it easy to identify where my children go to school. He put them in danger.
"Four of my children are adopted and have special needs and we have photos of some of their biological fathers posted at the school because we are terrified they could be kidnapped.
Article continues below advertisement
"When this man posted the information identifying the schools the Momma Bear came out in me. You can call me names and say what you want but when you start with my children, Game Over.
"I'm not proud of what I said in those tweets but I was furious. This followed months of this man identifying my children."
Tellingly, the name of the person the tweet was addressed to was blocked out in the copy that was sent to the web site that got it wrong.
(That site did not run the tweet, but just quoted from it.)
RadarOnline.com has confirmed that the tweet was NOT sent to LeAnn but was part of an ongoing battle between Kim and LeAnn's supporter who asked RadarOnline.com not to use his name.
The hash tags on the tweet also prove that it was sent to that man as part of the ongoing war surrounding the identification of where to locate Smiley's children. One hash tag refers to the man as "Princess." The man admitted to RadarOnline.com that Smiley called him that often as a way to antagonize him. The hash tag also had a reference to a school the man identified.
Article continues below advertisement
"We live in a small town and it's easy to identify us," Smiley told RadarOnline.com. "I sent that tweet late at night and I was just furious. I normally don't use profanity like that but I felt that he put my kids in danger and that is not something that you do."
RadarOnline.com has even obtained a screen shot of the tweet where it was sent by a Rimes' fan to another news website with the comment, "KSmiley taunts Leann Rimes fan" – an admission that the tweet was sent to a fan and not the star!
The Rimes' fan who was the subject of Smiley's tweet had sent several antagonistic tweets to her previously. RadarOnline.com obtained those tweets and they are highly vitriolic, setting the stage for Smiley's blast back.
One of the man's tweets said: "Who lets this b***h teach children?"
Another gave a very, very clear hint where her children go to school.
And yet another said: "You're such a dumba**..I dunno why in the world Mr. (redacted by RadarOnline.com) lets you teach at his school." And yet another named another teaching supervisor. And another also referenced the school's program. All of the tweets make it easy to identify the school that Smiley's children attend.
Article continues below advertisement
Several people who did not want to be identified pointed fingers at two Rimes' fans and claimed they sent it to the other web site who then fell for the story that it was sent by Smiley to Rimes.
Rimes is currently suing Smiley for recording a telephone conversation without her consent. Smiley has vowed to fight back.
Team Rimes claims the star was bullied on twitter by fans. (Rimes is now in a treatment center for "anxiety" according to her rep.) But people close to Smiley, who has six children, point out that Rimes blocked Smiley about a year ago and Smiley then took her account private.
A battle has been raging on Twitter between Smiley and Rimes' supporters with each side accusing the other of bullying and inappropriate behavior.
RELATED STORIES:
Brandi Glanville Denies Cheating With Her Ex, LeAnn Rimes' Husband Eddie Cibrian
LeAnn Rimes: Out Of Treatment And Back On Stage
LeAnn Rimes' Childhood Mentor: 'Hollywood Has Changed Her For The Worse'
Upbeat LeAnn Rimes Tweeting From Treatment Center Hiatus: 'I Have The Best Fans Ever!'