Upbeat LeAnn Rimes Tweeting From Treatment Center Hiatus: 'I Have The Best Fans Ever!'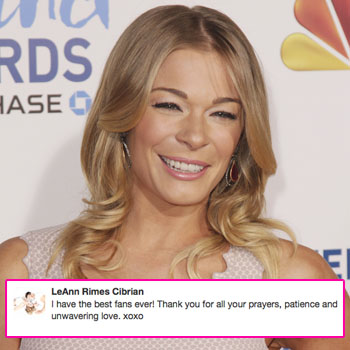 Article continues below advertisement
"I have the best fans ever! Thank you for all your prayers, patience and unwavering love. xoxo," LeAnn tweeted on Friday morning.
"EXTREMELY excited to perform for the next 3 night. My sweetness drove me to the airport this morning & I'm on my way! See you there."
LeAnn is heading to Wisconsin, sans her hubby Eddie Cibrian, who has also been blamed for her stress and anxiety because as RadarOnline.com was first to report LeAnn suspected he'd been cheating on her.
But LeAnn is keeping her head up and even wrote a blog titled "Back At It!" on Friday expressing her excitement to perform in the midwest.
"I'm on a plane headed to see all my fans in Wisconsin tonight! I can't wait to play, I'm so ready. I've got a zillion fashion mags, my journal, ipod, water and a butterfinger. I'm all set :)" she wrote.
"Seems I've developed a sweet tooth after turning 30. If that's all that comes with 30, I think I'm settinling in pretty well. So far, the new decade is treating me great! Hope you all have a fantastic weekend and I look forward to seeing all of my fans and friends over the next 3 days."