LeAnn Rimes Bizarre Breakdown: Phoned And Cursed Out Twitter Follower Before Entering Treatment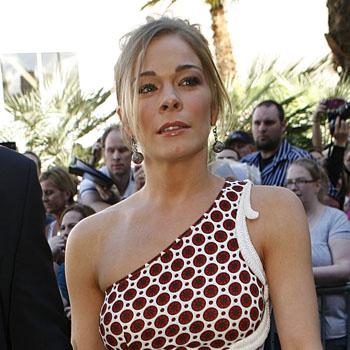 By David Perel - Executive Vice President/Managing Editor RadarOnline.com
Before LeAnn Rimes entered treatment -- reportedly for "anxiety and stress" -- the country singer exhibited bizarre and erratic behavior, including phoning and cursing a woman who stopped following her on Twitter!
While Rimes engaged in a very public Twitter war earlier this month after one follower accused her of cheating with Eddie Cibrian, she had a far more bizarre meltdown right before that, going on a profanity-laced tirade against a teacher who stopped being a fan of the star. RadarOnline.com has the exclusive details of how LeAnn found and confronted Kimberly Smiley, the woman who stopped following the star on Twitter!
Article continues below advertisement
Smiley was stunned when she answered the phone earlier this year and the voice on the other end said: "Hey b**ch this is LeAnn you have 5 minutes to say whatever you want to me!". Yes, it was the real LeAnn and according to Smiley the star filled their conversation with extensive profanity.
In fact, Smiley said that she has "never heard a person cuss so much.
"I even asked her to watch it, saying, 'Your language -- so trashy!' I was also surprised that she thought I'd just change my mind about her and want to come hang with her," Smiley said. "I don't like her, not because of the affair (although I don't agree with it), but because of her taunting of Brandi and using those boys in her sick game."
Rimes' obsession with Twitter is what led her to Smiley, who followed the star in 2010 when she was still reeling from the "home-wrecker" label some media outlets had tagged her with after she hooked up with a married Brandi Glanville's husband Eddie Cibrian. Rimes was publicly feuding with Brandi.
Smiley became a strong supporter of Brandi's on Twitter and LeAnn blocked her. Smiley claims she was harassed by many of the singer's fervent fans and charges that she learned through other Twitter users that Rimes had set up a phony account (handle: @wewenlove) account "to harass Brandi."
Article continues below advertisement
That backstory set the stage for March 26 of this year when Rimes went to lunch with some of her Twitter fans, who also happened to know Smiley.
One of those fans, a woman named Ericka, unexpectedly called Smiley.
"Ericka said, 'Hi,' and then handed the phone to LeAnn," Smiley said, noting she was taken aback when Rimes introduced herself, saying "Hey b***h, this is LeAnn, you have five minutes to say whatever you want to me.
"LeAnn called me because she believed that telling me her side, would change my mind," Smiley says, adding "she said she thought that I could relate to her situation of being a non-biological parent." (Cibrian has two sons with Glanville.)
Smiley said that Rimes even "invited her to come hang" out so she could get to know "the real" her. They also "spoke about her obsession with Twitter and Rimes claims it's not a problem."
Article continues below advertisement
Rimes behavior was bizarre and Smiley charges that she has "concocted these elaborate stories" trying to "justify the affair" with her now-husband Cibrian, implying Glanville's "erratic" drinking essentially drove him into her arms.
Another keynote of Rimes' agenda, Smiley said, is "to convince the world of her importance" in the lives of Cibrian's sons, Jake and Mason.
In addition to the drama with Glanville, Rimes told her Twitter pal Ericka that her ex-husband Dean Sheremet was "extremely abusive and controlling," Smiley said, claiming Rimes said Sheremet "would call her fat and tell her that her singing sucks.
"She also tells her fans that he's a homosexual and that he can't come out until both sets of his grandparents die, which I find to be so cruel," Smiley said. (Dean, following his divorce from LeAnn, married photographer Sarah Silver in August 2011.)
Smiley said she finds it odd that Rimes "is very worried about the group of people I talk to on Twitter.
"She really wants us to like her and see that she's not as bad as we think. It's very strange, if you ask me," Smiley said. "I mean I'm just a mom, wife, & teacher from a rural town in Northern California: Why would she care?"