Exclusive
Teacher Sued By LeAnn Rimes Vows To Fight Back, Won't Be 'Bullied' By Star And Lawyer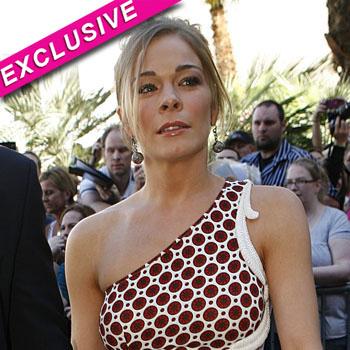 Article continues below advertisement
"I plan to take my own action against her," Kim told RadarOnline.com exclusively. "This could impact my family and business. Somebody needs to stand up or LeAnn will continue doing this for the rest of her life.
"I have a right to my opinion. I have never bullied her. She blocked me on Twitter and then I took my account private, so how can I bully her if I'm blocked AND have a private account? It makes no sense.
"People who don't like her have a right to their opinion. She's a public figure. But I have never bullied her."
Kim's 19-year-old daughter Lexi was also named in the lawsuit.
"My daughter was in tears over the lawsuit," Kim told RadarOnline.com about the invasion of privacy action filed by Hollywood heavyweight lawyer Larry Stein. "This could affect her future employment."
The suit centers on a phone call that the country star initiated to Smiley earlier this year. Portions of the call ended up on the internet and in what may be a Hollywood first, Rimes claims she is seeking treatment in part because she has been bullied on Twitter.
Article continues below advertisement
"She called ME," an incredulous Smiley pointed out to RadarOnline.com about the phone call. "She was trying to berate me into liking her. When she didn't get her way she got frustrated.
"She called me 'incredibly f***ing rude.' She was really mad. I guess she is used to people bowing down to her but I'm not that kind of person. She's not used to people standing their ground.'"
Kim points out that statements from LeAnn's team were false and she plans to do what is needed to get out the truth.
"One of her people said I was sending derogatory tweets to her for years. That's false."
Rimes' lawsuit claims Smiley insisted on re-hashing the past and repeatedly "insulted, taunted and provoked Ms. Rimes," during the phone call earlier this year.
Kim tells RadarOnline.com "that's a complete lie" and points out that LeAnn initiated the call from one of her Twitter follower's phones, a Twitter follower that LeAnn took to lunch!
MORE ON:
Celebrity Justice
Article continues below advertisement
"I was not expecting her phone call and I didn't even answer the phone the first time she tried to call. Then she texted me to answer the phone. I was worried but I did.
PHOTO: LeAnn Rimes & Brandi Glanville -- BFFs?
"It seemed odd that she was calling me."
According to Kim, LeAnn opened the conversation by saying "Hey b**ch it's LeAnn. You have five f***ing minutes to say whatever you want to me."
On Thursday, LeAnn's publicist released a statement that she was seeking treatment and claimed she'd been the victim of cyber bullying by Twitter users. But the lawsuit focused solely on the alleged invasion of privacy stemming from the LeAnn-initiated phone call, parts of which ended up posted on the Web.
That lawsuit however may simply be the beginning of a ground-breaking battle that could have far reaching consequences, including:
· Will LeAnn's treatment records and diagnosis be brought into the lawsuit, based on public statements about her emotional health by her team?
· LeAnn took some of her Twitter followers to lunch and even allegedly flew one to a concert – will that negate her claim of bullying by Twitter users who don't like her?
Article continues below advertisement