Gym Denies Gabby Douglas Claims Of Bullying, Racist 'Slave' Remark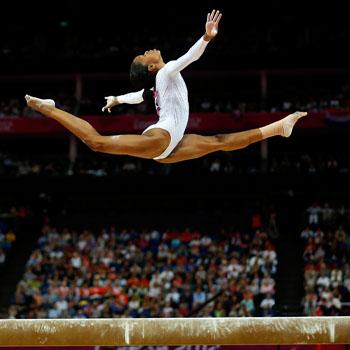 Officials with the Virginia Beach facility Gabby Douglas trained at denied claims the gold medalist made in a televised interview that she was bullied and subjected to racist comments, spurring her move to train in West Des Moines, Iowa with a different coach.
In the chat, Gabby said that in one instance, "One of my teammates was like, 'Could you scrape the bar?' And they were like, 'Why doesn't Gabby do it, she's our slave?'"
Article continues below advertisement
Calling Gabby's accusations "just sickening," Excalibur gym's Randy Stageburg told industry website Gymnewstics.com that "Gabby was never a victim, in fact, many would say she was one of the favorites.
"I never once heard her complain about girls being mean," Stageburg said. "Funny how it is just now coming up."
Excalibur CEO Gustavo Maure asked, "Is Gabrielle a credible person just because she is an Olympic Champion?
"She is not giving any names or dates, leading us to believe that the accusation is fake," Maure told E! in a statement. "This wouldn't be the first time that the media has made up a story. Thousands of gymnasts and families have supported our good conduct and our professionalism during the last 30 years."
Also in the chat, he now-wealthy 16-year-old said she "felt being bullied and isolated from the group"