Family Heartache Behind Gabby Douglas' Olympic Golds, 'My Dad Left Us'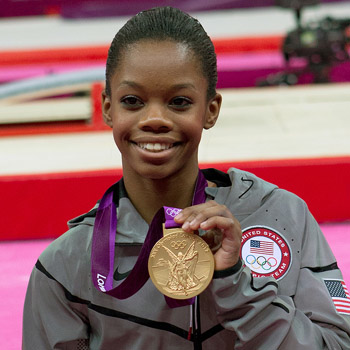 By Debbie Emery - RadarOnline.com Reporter
Gabrielle "Gabby" Douglas has won the hearts of America - along with two Olympic gold medals - during the past week in London, but noticeably absent cheering her on in the crowd was her father.
The 16-year-old nicknamed the "Flying Squirrel" was separated from her dad for a large part of her childhood while the Air Force Staff Sgt. Timothy Douglas served multiple deployments abroad, leaving mom Natalie Hawkins to raise her four children alone. "I just had to pray to God just to keep him safe and tell the angels to keep my dad safe and come home," she told NBC.
Article continues below advertisement
Gabby was just nine when her dad was called up to serve in Iraq, and two years later she was forced to leave her family in Virginia Beach to live with a sponsor family in DeMoines, Iowa to train.
"It was hard for us growing up – my dad had left us, so he wasn't really in the picture anymore. So, my mom had to front all these bills. My dad didn't really pay the child support. He was short (on money)," Gabby said candidly this week, according to the New York Post. "It was definitely hard on my mom, taking care of me and my siblings."
The 4'11" phenomenon's honest response came in light of reports that her mother had recently filed for bankruptcy following years of struggling to make ends meet.
Her parents are now in the midst of a divorce and Sgt. Douglas was not able to get tickets to see his daughter in her historic performance, and after many years of only seeing her routines on YouTube, he watched the event on television with his parents and brother.
Article continues below advertisement
Gabby hadn't even seen her father for two years until last June, when she suddenly heard someone calling her name out during the Olympic trials in San Jose, Calif., in June and looked up to see him and a friend waving the American flag from the crowd. "I almost felt like bawling. I was like, 'Oh, my gosh, Dad!'"
After becoming the first African American to win the all-around Olympic gold medal in women's gymnastics, Gabby won't have to worry about money for long now that sponsors are clamoring to have her endorse their products and she could earn her up to $90 million in deals, including the cover of Kellogg's Corn Flakes.