Gabby Douglas Wins All-Around Gold in Women's Gymnastics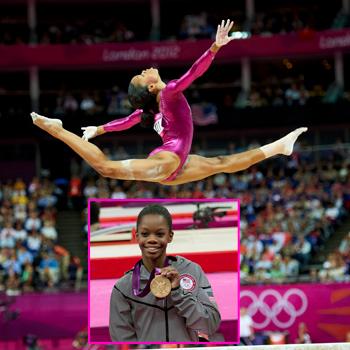 Gabrielle "Gabby" Douglas became the first African-American woman to win the all-around gold medal in women's gymnastics at the 2012 Olympics at the O2 Arena in London Thursday.
"I wanted to seize the moment," she said. "It hasn't sunk in yet. Team finals hasn't sunk in yet. But it will."
She tweeted Thursday, "Let all that I am praise the LORD; may I never forget the good things he does for me … WOW such an AMAZING experience! Thank you all for your support, love and prayers love you all!!! #oncloud9 <3."
Article continues below advertisement
Russian gymnasts Victoria Komova and Aliya Mustafina finished with gold and silver, respectively, while American Aly Raisman came in fourth Thursday.
"I'm really happy for Douglas … she's been working really hard so she deserves it and I'm really excited for her," Raisman said.
Gabby rocked her floor routine and flashed her huge smile when she earned a 62.232 score, winning her the gold medal.
Oprah Winfrey took notice of the feat, tweeting, "OMG I'm so THRILLED for Gabby. Flowing happy tears!!"
Other celebs to tweet at Douglas congratulating her for the feat included President Barack Obama, fellow Gold medalist Michael Phelps and singers Ciara and Nicki Minaj.
African-American Olympian Dominique Dawes won gold as part of a team competition in 1996.
"She's definitely one of my inspirations and role models growing up," Douglas said Tuesday. "Everyone's comparing me to her, and I feel honored to be compared to her."
Article continues below advertisement