Olympic Feud! Hope Solo Doesn't Back Down Over Twitter Tirade Against Brandi Chastain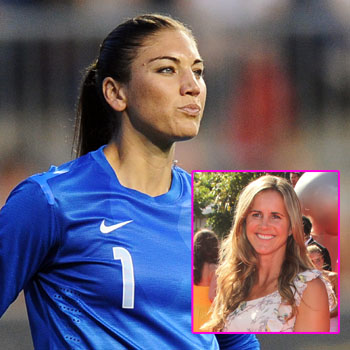 By Debbie Emery - RadarOnline.com Reporter
After causing outrage for calling out former player Brandi Chastain for what she considered poor commentating during the U.S. women's soccer team's 3-0 win over Colombia on Saturday, Olympic star Hope Solo is standing by her angry Twitter tirade.
"It's not about what made me unhappy," Solo told reporters on Monday, reported ESPN.com. "It's not about one game.
"I think analysts and commentators should bring energy and excitement and passion for the game, and a lot of knowledge, and I think it's important to help build the game, and I don't think Brandi has that," said Hope on her 31st birthday while being interviewed at Manchester's Old Trafford stadium.
Article continues below advertisement
In the Twitter rant in question, Solo wrote: "Its 2 bad we cant have commentators who better represents the team & knows more about the game @brandichastain!"
Which was then followed up by, "Lay off commentating about defending and gking until you get more educated @brandichastain the game has changed from a decade ago.
"Its important 2 our fans 2 enjoy the spirit of the olympics. Its not possible when sum1 on air is saying that a player is the worst defender! I feel bad 4 our fans that have 2 push mute, especially bc @arlowhite is fantastic.@brandichastain should be helping 2 grow the sport."
In response to the unbridled attack, Chastain – who rose to fame in the 1999 World Cup final when she celebrated the U.S. win by ripping her jersey off – was suitably diplomatic. "I'm here to do my job, which is to be an honest and objective analyst at the Olympics," said the player-turned-NBC commentator.
The outburst led to a meeting with Solo, coach Pia Sundhage and the team captains on Sunday, with the coach expressing concern about how the tweets reflected on the team's image and the need to cut out distractions and focus on the next game. However, the gorgeous goalie won't be disciplined and has not been told to stop tweeting.