Exclusive
Sports Stars Dish About Celebrity Crushes & The Kardashians At The ESPY Awards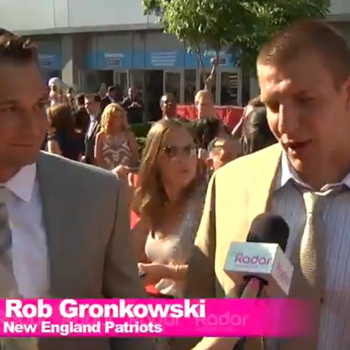 By Debbie Emery - RadarOnline.com Reporter
The Oscar winners of the sports world hit the red carpet at the ESPY Awards sponsored by Belvedere in Los Angeles on Wednesday night to celebrate the ultimate achievements in athletics, and RadarOnline.com was there to celebrate.
Amongst the celebrities in attendance to honor the biggest successes of the year were NFL star Tim Tebow, his new teammate Mark Sanchez, the latest addition to the Los Angeles Lakers, Steve Nash, and 2010 Super Bowl champion Aaron Rogers.
Article continues below advertisement
The Kardashian family even made an appearance in the form of Bruce Jenner and son-in-law Lamar Odom. When asked by RadarOnline.com who his favorite Kardashian was, Khloe's NBA husband -- who signed with the Los Angeles Clippers last week -- replied, "Who do you think?"
Celebs Arrive To The 2011 ESPY Awards
Another pro athlete had a surprisingly answer when asked who his favorite member of the famous reality TV family was, when New England Patriots player Rob Gronkowski answered "Rob Kardashian," as the pair recently appeared in the Fox dating show, The Choice, together. As for if Gronk would ever take the reality show scene even further by being the next Bachelor, the answer was sadly a "no" as it would distract from his successful football career alongside Tom Brady.
Other stars who chatted to RadarOnline.com host Playboy Playmate Nikki Leigh before celebrating the biggest night in sports were soccer player Brandi Chastain, softball star Jennie Finch, Detroit Lions Quarterback Matthew Stafford, Dancing With The Stars alums Karina Smirnoff and Tony Dovolani and football player Terrell Suggs.
We asked Brandi who her celebrity crush was for the night, and she told us: "It is hard to pick out one from these thousands of awesomeness, how do you choose? Matt Kemp and Eli Manning?"
Article continues below advertisement
2011 ESPY Awards: Read the complete list of winners
Meanwhile, DWTS Karina had a clear winner! "I saw Maria Sharapova before but from the back, she's tall, she's like a goddess... blonde, legs for miles."
Matt Stafford went the Hollywood route, "I was a big fan of 7th Heaven growing up, and I heard that Jessica Biel was here," he confessed.
Alpine racer Lindsay Vonn should consider swapping her skis for dancing shoes after Tony Dovolani told RadarOnline.com that he would love to have her as his next partner!