Exclusive
Rob Gronkowski Opens Up About Stripping Naked For ESPN 'I Was Definitely Nervous!'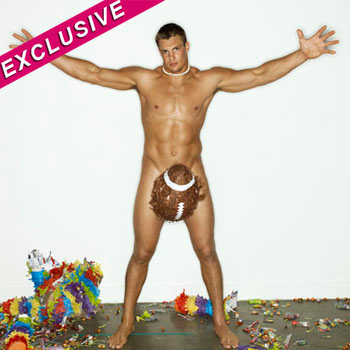 By Debbie Emery - RadarOnline.com Reporter
The sports world's hottest stars stripped off for the annual ESPN The Magazine 'Body Issue' - and even with the most perfectly sculpted physiques on the planet, they all got a little embarrassed about baring all!
The latest stars to reveal their most intimate athletic assets exclusively opened up to RadarOnline.com about the nude photo shoots that involved trampolines, piñatas and even mammoth waves.
Article continues below advertisement
"I was definitely nervous! I didn't know what to expect, but the photographers were amazing and they did a great job with every athlete," New England Patriots player Rob Gronkowski told RadarOnline.com in an exclusive interview at the issue's launch party at the Belasco Theater in Los Angeles. "You've definitely got to give them credit, they all came out great overall and I'm proud of it."
While the 6'6" star tight end who recently signed a $54 million contract extension with Tom Brady's team isn't afraid of anything on the football field, he was anxious about going full frontal in front of the cameras!
"The most embarrassing thing was doing the front the first time, I was nervous about it. It's just kind of embarrassing but once you get over it, you get to know everyone there and have a good time," he laughed.
Off the field, the 23-year-old has shown he has hot moves on the dance floor too, so the piñata football featured in the shoot was the perfect fit for his fun-loving image.
"I guess it was a piñata party theme, we did a lot of things, but I think they did a great job, much respect to them," Rob revealed.
Article continues below advertisement
"We tried about 10 different things and that's what they picked. I think it looks good so I'm happy with it."
After a record-breaking 2011 season that took him to his first Super Bowl, Gronkowski is nominated for two ESPY awards on Wednesday, Best Breakthrough Athlete and Best NFL Player.
"I'm not really nervous about it, it's just an honor to be nominated and if I win, I win," said the modest 265-pound Patriot.
Rob's fellow ESPN cover stars shared his sentiments about being more than a little camera-shy before they showed off their birthday suits.
U.S men's national soccer team player Carlos Bocanegra told RadarOnline.com he was nervous before the shoot, but was encouraged to take the plunge by one of his teammates. "I talked to our goalie Tim Howard and he did it the year before and told me they'd make me feel comfortable and it was great.
Article continues below advertisement
"When I got there, everyone was awesome. I'm proud to be there with all the other athletes and to show off the athletic body."
He even got to flaunt some of the ball skills that fans witnessed in the World Cup two years ago!
"That is kind of a side volley for us, we had a matt underneath it and one of the guys was tossing the ball and I was jumping up doing a scissor kick," the team captain explained, describing his sideways pose. "I wanted to do something we'd do in a game, a proper action shot. It was only the second photo we took."
MORE ON:
Sexiest Bodies Hollywood
Volleyball players Destinee Hooker and Megan Hodge will be packing up and heading to London for the Olympics next week, but what really struck fear into their hearts was the thought of jumping naked on a trampoline.
"Before we even got there they told us there was going to be a trampoline involved and I prayed it was going to be in the dark, but after a while you get comfortable and everything went well," revealed 6'4" Destinee.
Article continues below advertisement
"For me the most embarrassing thing was I kept sweating and was super uncomfortable but I was fine," added team mate Megan.
Female MMA fighter Ronda Rousey is used to having to strip off in front of fellow female competitors for weigh-ins at Olympic judo competitions, but a co-ed environment was definitely new.
"Getting naked with 50 other girls pressing to get on a scale was a crazy and shocking experience as a 16-year-old but after that it got easier," she told RadarOnline.com.
Having recently switched from judo to MMA after winning a bronze medal in the last Olympics, the beautiful blonde is certainly a lot tougher than she looks.
"I don't worry about being hit in the face, they say symmetry is beautiful but sometimes black eyes are hot," said the 25-year-old from California.
For Slovakian tennis player Daniela Hantuchova, the most nerve-wracking thing was just waiting for the photos to come out so she could finally see the results of the shoot.
Article continues below advertisement
"I just didn't know what to expect, they were my first naked pictures so it was a little different from all the other photos I've done," she exclusively told RadarOnline.com, but thankfully she was happy with the results.
"It was a lot of fun shooting it, we did it in Rome, which is one of my favorite cities. I was nervous maybe the first 20 minutes and after that I got into it and it went really well."
Rather than starving herself before she stripped off, Daniela, who is heading to her third Olympics next week, just kept hitting the court.
"It was tournament season for us so you can't really change anything just for a photo shoot. I don't have a diet, I am lucky as I can eat whatever I want, I think it is the hours I spend in the gym and playing," the 29-year-old tennis pro explained.
To see the rest of the sports stars in all their glory, the ESPN The Magazine 'Body Issue' is on newsstands on Friday, or visit ESPN.com.
RELATED STORIES: