Real-Life 'Blade Runner' - Double-Amputee Oscar Pistorius To Compete In The Olympics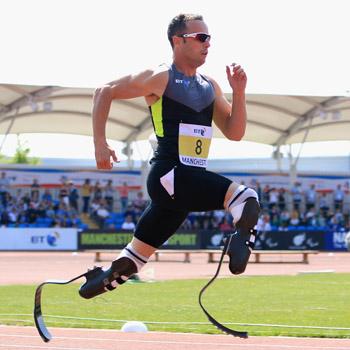 His nickname is The Blade Runner, and Oscar Pistorius now has a chance to add Olympic Medalist to his resume.
The South African will be competing in two events in the Summer Olympics, the first amputee track athlete to ever do so.
Pistorius, who lost both his legs just below the knee when he was just 11 months old, runs on carbon fiber blades.
He is already a three-time Paralympic medalist and will compete in those games again this year. They immediately follow the Olympics, starting August 29 in London.
Article continues below advertisement
Pistorius will run in both the 400 meter and the 4-400 relay, and will sure to be a huge draw.
"Today is truly one of the proudest days of my life," Pistorius said on Wednesday when the decision was announced.
NBC's coverage of the Olympic games begins July 27.
***
Unfortunately, due to experiencing unusually high levels of traffic we have had to temporarily suspend our comments function. We will resume comments again as soon as possible.