Tom Brady Flexes Comedic Muscles And 'Wicked Accent' In Hilarious Funny Or Die Skit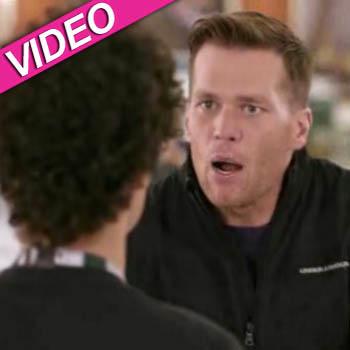 Article continues below advertisement
PHOTO: Tom & Gisele Embrace After Super Bowl
Filmed at a Dick's Sporting Goods store in Los Angeles, 6'4" Brady is looking for Under Armour golf gear (which is one of the athletic lines he endorses) but gets accosted by the geeky shop assistant who not only fails to recognize him, but also can't get over Tom's "Boston accent."
"I don't have a Boston accent, I play football in Boston," explains Brady who is actually from San Mateo in northern California, as his bespectacled nemesis says he can't understand what he's saying. "Go Sox! That's some wicked hot chowda!" he banters back.
"I sound nothing like that," moans a frustrated Tom, putting his head in his hands as the clerk throws out every Boston cliché in the book at him including Marky Mark And the Funky Bunch. He then begins dragging over unsuspecting shoppers to listen to "the Boston guy," who jump on him trying to take photos.
"Are you Matt Damon?" asks one woman, "I knew it – Affleck!" quips her husband.
Brady rarely loses his cool under pressure on the football field, but he finally flips in the skit, screaming: "I'm a native of California, I went to Michigan, now I play for New England, I'm the f**king quarterback, you moron!"
Article continues below advertisement
The final nail in the coffin is when the confused clerk tells Tom, "You look a lot like that standy," pointing to a cardboard cut-out of the QB promoting Under Armour. Brady knocks his two-dimensional doppelganger down with one swipe and screams, "I am the guy on the standy!" before pushing down the sales assistant and storming off as the female shopper shouts, "Matt Damon, shame on you! He lost his wife in those Bourne movies but I don't feel bad for him at all."