Tom Brady Helping Football Mentor Find Kidney Transplant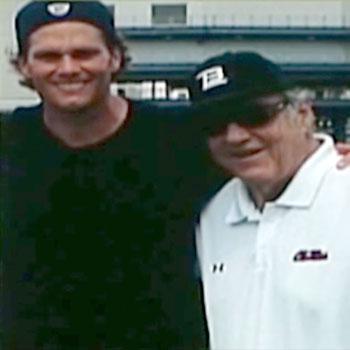 Tom Brady is not only getting ready to play in the Super Bowl. The New England Patriots quarterback is trying to save the life of his beloved football mentor Tom Martinez by spreading the word he needs a kidney transplant.
Martinez, who coached at the College of San Mateo until 2005, met Brady when Tom was just 13 years-old and has been a factor in his game ever since.
He's now suffering from kidney failure and in need of a transplant. He's searched for the last two years for a suitable live donor match but has been unsuccessful. Then three months ago, Martinez's doctors told him he had only a few more months to live, reports ABC News.
Article continues below advertisement
"I've been told I'm out of here, and I don't accept that," said Martinez. "I'm going to fight to the end."
Enter Brady, who is spreading the word through a banner he's been circulating online through the non-profit MatchingDonor.com.
Martinez's family listed him on the site, which helps those in need connect with potential living donors.
"We don't like to promote one person or another," said medical director Dr. Jeremiah Lowney. "If Tom Martinez is helping people get to this site, then that's great."
Nearly 90,000 people in the U.S. are awaiting a kidney transplant, and nearly 3,000 people are added to the United Network for Organ Sharing national waiting list each month. Hundreds die every month while waiting for a transplant.
Patients who can find matching live donors have higher survival rates, and that's there sites like Matching Donor come in for patients who don't have a family member or close friend who is a match.
Article continues below advertisement
"Tom is, you know, not giving up on his coach. I can't express it into words my gratitude," Martinez told ABC News. "That was the greatest thing he could have done for me because it brought forth people now that possibly we have a chance to get a match on."
Who Is Tim Tebow? 7 Things You Didn't Know About The Christian Football Star