Tim Tebow Voted Best Celebrity Neighbor, Jersey Shore Cast The Worst (Not Surprisingly!)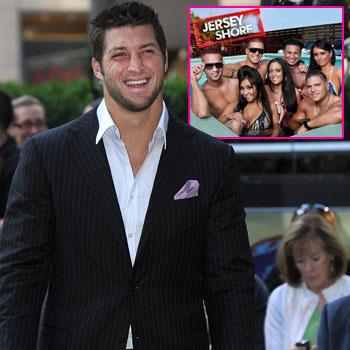 Our friends at Zillow have conducted their fifth-annual poll of how many American adults would like to live next door to someone famous, and if so, who would it be.
The results are in and they might surprise you: the best celebrity neighbor for 2012 was crowned none other than devout Denver Bronco Tim Tebow, with 11 percent of voters. (Why not? He's honest to a fault, strong enough to help with heavy lifting, can afford many cups of sugar to lend and can probably get you Super Bowl tickets.)
Article continues below advertisement
The religious signal-caller defeated two high-octane Hollywood couples for the honors: Angelina Jolie and Brad Pitt (10 percent), and Jennifer Aniston and Justin Theroux (9 percent of the vote).
As for the least desirable stars to share a fence with?
The hard-partying cast of MTV's Jersey Shore held onto the crown they earned last year, getting the worst neighbor title with a landslide 26 percent of the votes. (With their ongoing loud arguments; late, boozed-up nights; and reality TV cameras flooding the area, this makes sense, as well.)
The next two names on the list mirror the Jersey Shore cast in their reputations for fast living: Charlie Sheen with 21 percent, and Lindsay Lohan, with 14 percent. Honorable mention goes to reality star Kim Kardashian, who tallied 13 percent of her own.
Of those polled, 42 percent said they wouldn't even want to live next door to someone famous.
"As a voyeuristic culture that breathlessly tracks every celebrity movement, it's extremely surprising to see so many Americans saying they wouldn't like to live next to any celebrity at all," Zillow's Amy Bohutinsky said. "In fact, more people opted out of a celebrity neighbor in 2012 than in any of the past years we've run this poll.