Tori & Dean Sell Home Sweet Hollywood Home, Buy Malibu Oasis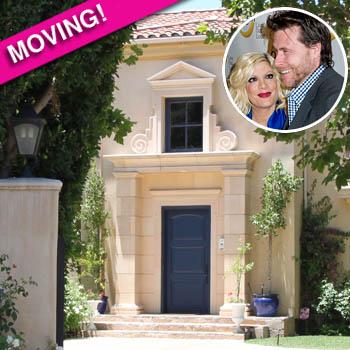 Tori Spelling and Dean McDermott are on the move again after selling their mini-mansion in L.A.'s Encino district for $2.5million and snapping up a spread in Malibu for almost the same amount.
The couple had listed the Encino house, where they've filmed their reality show Tori & Dean: Home Sweet Hollywood, for $3.199 million but took a hit to get it sold.
Tori and Dean have lived in the six-bedroom, 6 ½ bath Tuscan style villa since 2007 which has a spacious 6,718 square-foot living space.
Article continues below advertisement
But just before their third child, daughter daughter Hattie, was born in October, they bought the property in Malibu for $2.4 million. It's a much smaller house, this place is just 2,300 sq. ft., but it sits on 1.75 acres of luscious native landscaping and organic gardens and lawn.
The single story home has three bedroom and 2 ½ bathrooms with multiple outdoor decks and great views with a pool and outdoor fire pit. It also has plenty of room to expand.
Tori, 38, and Dean, 45, have spoken of their desire to own a farm and be more at one with nature – so it seems they're settling on a rural oceanside oasis instead.
In the current season of their show the couple, who have been married for six years, added a pet chicken and goat to their eccentric family.
RELATED STORIES:
Tori Spelling Opens Up About Paparazzi Car Crash, Healing With Mom Candy