Lady Gaga Looking To Buy $1.7 Million Home in Pa. To Be Closer To Boyfriend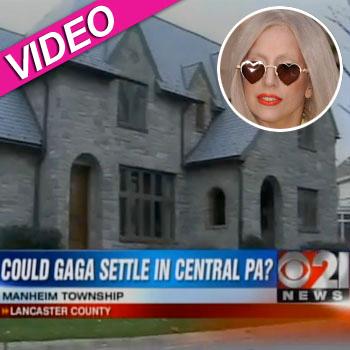 After spending more and more time in boyfriend Taylor Kinney's home town in central Pennsylvania, Lady Gaga is apparently looking to buy a mansion there.
The pop superstar has been seen around Lancaster County with locals buzzing that Gaga is looking at a $1.7 million property in the gated community of Bent Creek, CBS21 is exclusively reporting.
The estate is a spacious 6,000 square feet with a three car garage.
Article continues below advertisement
Gaga has been dating The Vampire Diaries actor for a few months with the relationship said to be getting serious.
The couple has been seen at local bars and restaurants and even grocery shopping in the city just 70 miles from Philadelphia.
Tyler Nehlig, whose parents own the house next to Gaga's possible new residence, said that the Born This Way star would be welcomed to the neighborhood.
"I've heard she's very low key and normal despite all of her exotic performances," Nehlig told CBS21. "Her shoes and her crazy costumes, I think it would be interesting to see the other side of her."