Exclusive
Khloé Kardashian: Lamar Odom MUST Make Olympic Team For Sake Of His Career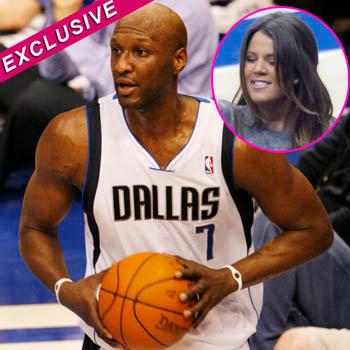 Article continues below advertisement
"Khloé is telling friends that Lamar must make the Olympic team -- for the sake of his career and their future together," a source close to the couple tells RadarOnline.com. "He has been training non-stop to get in the best shape possible and will do anything to make the cut. Lamar has tremendous respect for the Olympic head coach, Mike Krzyewski, and he knows what he has to do to get ready. Khloé is also training with Lamar to give him confidence and she is really being as supportive as she can.
"Khloé thinks the only thing that will get Lamar out of the funk he is in is to make it into the team, because it isn't just about basketball when talking about the Olympics. Lamar has represented his country at the World Championships previously and he was so very proud and honored to do so, and Khloé wants that for him again. To be a part of something like the Olympics is a once in a lifetime experience. Lamar knows he wouldn't be a starter, and he is ok with that, he just wants to contribute in any way he can.
Article continues below advertisement
"Khloé thinks the best way for Lamar to get a new deal with a NBA team is if pro coaches were to see how he performs at the Olympics. Lamar would love to sign a new deal with either the Lakers or Clippers, because Los Angeles is his home, but he loves the game so much that he will go where he is needed. Lamar isn't ready to retire, period."
Meanwhile, Lamar has been encouraged by comments that Coach K recently made about him.
"Lamar has been a part of our pool. Guys that have competed they earn equity," Coach K told Dallas blogger Big Mac. "Lamar was our second leading scorer in Istanbul. We would not have won the World Championships without him. I think, for most players, there are certain bumps and certain things happen throughout their career. They aren't playing well, they are hurt, and we'll get a chance to determine his status when we start training camp. He is a part of our pool and we have a great relationship with Lamar."
Article continues below advertisement