New Controversy About Khloe Kardashian's Marriage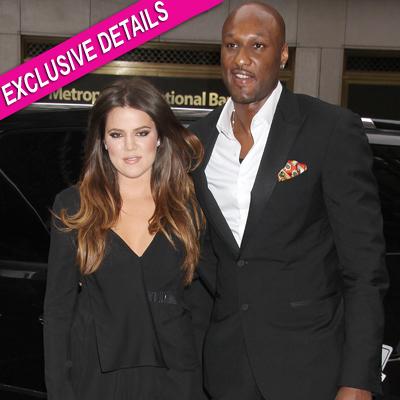 Khloe Kardashian is insisting everything is fine in her marriage -- sort of.
In the past few weeks, Khloe and her husband Lamar have been the center of attention, but not the kind that they usually crave. Their reality TV show will be no more, Lamar was dumped by his NBA team and numerous reports have surfaced that all is not well in the marriage.
In a new interview Khloe insists that divorce is not an option -- but actually she doesn't quite say that!
Article continues below advertisement
"I like to think divorce is not an option," is EXACTLY what Khloe told People in an interview, leaving many wondering what she means by the qualifying phrase, "I like to think."
Certainly her marriage has been under tremendous stress as her attempts to conceive via in vitro have been unsuccessful. When Lamar was traded from the Los Angeles Lakers to the Dallas Mavericks, it was clear that he was unhappy, but nobody predicted he would fall from an NBA star to a player so lousy that his team simply put him on the inactive list as it headed to the playoffs.
Things were so bad for Lamar that team owner Mark Cuban yelled at him in the locker room at halftime of his final game, frustrated over the power forward's attitude and poor play.
And while People says Lamar is "sitting out the season" the truth is he was dumped after a horrendous season.
"We just wanted a little pause. Part of being married is knowing when your husband needs your support," Khloe says in the new interview.
Article continues below advertisement
But Star magazine reported that just a few months ago, Lamar was in a strip club in Washington, D.C. He disappeared into a private room with one of the strippers, and no one thought he was acting like a married man.
RadarOnline.com has learned that the couple's problems have intensified since that incident, with Khloe growing increasingly unhappy and worried about the state of her marriage.
"She's not ready to give up," one source said. "But there are big problems. The kind she won't admit in any interview."