Exclusive
Khloe Kardashian's Marriage Doomed If Lamar Odom Doesn't Stay In LA, Claims Source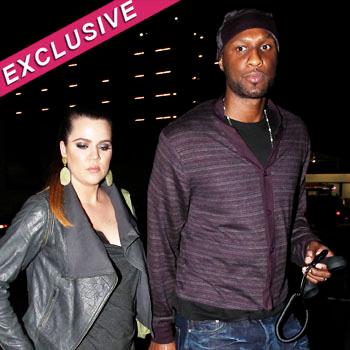 By Jen Heger - RadarOnline.com Assistant Managing Editor
Khloé Kardashian's marriage could be doomed if her NBA hubby, Lamar Odom, doesn't get signed to play for a team in Los Angeles, RadarOnline.com is exclusively reporting.
During the current season of their E! reality show, Odom has been sulking and extremely sad that his former team, the Los Angeles Lakers, traded him to the Dallas Mavericks.
"Khloe is freaked out that if Lamar doesn't sign with either the Lakers or possibly the Clippers, her marriage will be over," a source close to the couple tells RadarOnline.com. "She doesn't feel that their marriage can handle another stressful move to another city. It's not because she doesn't support Lamar, she moved with him to Dallas, but it's all Odom. Lamar has been increasingly bummed out and in a funk since the Lakers traded him and he thinks the only thing that will pull him out of it will be playing for the Lakers again. He loves the Lakers, they are and were his family. You have to remember that Lamar's mother died when he was young and he has never had a close relationship with his father. Former Laker coach, Phil Jackson was like a father to him and his teammates were his brothers."
Article continues below advertisement
As RadarOnline.com previously reported, Khloe and Lamar have been the center of attention recently, though not the kind that they usually crave. Their reality TV show is drawing to an end, Lamar was dumped by his NBA team and numerous reports have surfaced that all is not well in the marriage.
In a new interview Khloé addressed the rumors that her marriage is in trouble, though in language that left people still wondering! "I like to think divorce is not an option," Khloé told People magazine, leaving many wondering what she means by the qualifying phrase, "I like to think."
Star magazine reported that just a few months ago Lamar was in a strip club in Washington, D.C. He disappeared into a private room with one of the strippers and no one thought he was acting like a married man.
"Khloé was livid that Lamar went to that strip joint," the source says. "There are big problems in this marriage, more than she is publicly discussing. There are deep seeded issues of trust that Khloé has and Lamar is angry at her for the way he is being perceived on their reality show. Khloé is also afraid that Lamar might not even get signed as a free agent with an NBA team and that he would go play basketball in Europe. There is no way that Lamar is ready for retirement."