Kim Kardashian And Kanye West Have A Handy Sunday Lunch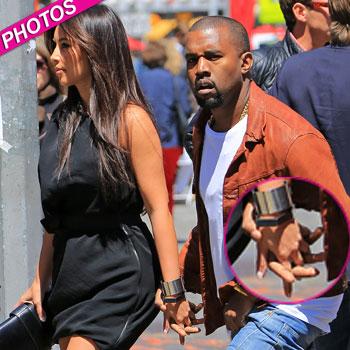 Another day another date for Kim Kardashian and Kanye West who shared a romantic Serafina lunch in New York on Sunday.
The pair reunited after Kim's brief visit to the D.C. for the White House Correspondents' Dinner the night before.
Walking hand-in-hand Kim, dressed in a sexy black dress and Kanye, in more casual jeans and a leather jacket, soaked up the sun before their midday meal.
Kim and Kayne have hardly left each other's side since going public with their romance just over three weeks ago.
Article continues below advertisement
While it seems love is in the air Kim's outspoken sister Khloe had no problem telling Bravo's Andy Cohen she doesn't think it will last.
"I don't think it's serious. I think it's too soon," she said during last week's episode of Watch What Happens Live.
"But because they've been friends for so long, it's just so easy and that's something I love seeing for Kim - the easiness and how happy she is. And it's just more of a great friendship and friendships make the best relationships."