Kim Kardashian And Kanye West Only Have Eyes For Each Other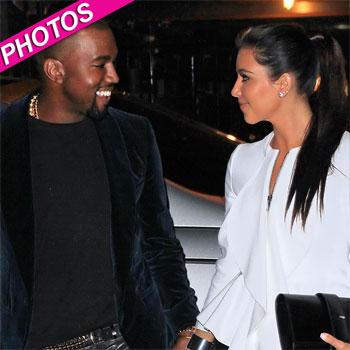 Kim Kardashian and Kanye West were out to dinner in NYC Friday night, and the lovebirds couldn't take their eyes off each other.
They were wardrobe-coordinated too, with both in black leather pants as they stepped into The Lion restaurant in Manhattan's West Village.
Since going public as a couple, Kim and Kanye haven't been shy about their relationship, and as RadarOnline.com exclusively reported, that has Kris Humphries asking it is all a publicity stunt.
Article continues below advertisement
As he fights for an annulment of his marriage to Kim, Kris is trying to prove Kim only married him to promote her reality career. "The crux of Kris' case for annulment is that Kim married him under fraudulent pretenses and did it for her reality show. Team Humphries wants to know if producers of the Kardashian reality shows were in contact with Kanye West prior to the new couple dating or going public with their relationship and what those conversations consisted of," a source close to the situation told us.