Exclusive
Lamar Odom Blames Cousin's Death For Poor Performance, Vows To Be 'The Comeback Kid'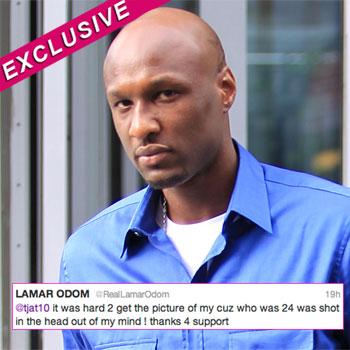 Lamar Odom has made an intimate confession to his three million Twitter followers in a bid to explain his woeful performance for the Dallas Mavericks this season.
The 32-year-old NBA veteran, who had been at the top of the game for a staggering 13 years before this recent dip in form, got into an argument with angry Mavs fans after he tweeted a message that ended: 'The comeback kid!'
Lamar, whose starry life away from the basketball court with wife Khloé Kardashian hasn't helped his standing with frustrated Texans, infuriated some followers by suggesting that if he improves his game, he could be the next P. Diddy.
Article continues below advertisement
He wrote in full: "Being the best basketball player I can possibly be will allow 2 become the next P.Diddy. I know whats fly! Dis the Year. ThecomeBackKid!"
One fan, called TJPerry, shot back: "Maybe should've thought about 'being the best' when you were collecting a check from the mavs instead of sulking like a b!"
Odom initially replied: "Use your platform 2 speak wisely and be an honorable fan not a fan-atic. there is a difference . just look u follow me. luckyU!LuvYa"
But when other fans chimed in to ask if the criticism was unjust, Lamar opened up to an unexpected degree.
He responded: "It was hard to 2 get the picture of my cuz who was 24 was shot in the head out of my mind! Thanks 4 support."
As RadarOnline.com previously reported, Khloé's husband was also the passenger in an accident where a 15-year-old boy was killed during the past year.
In addition, the troubled athlete has been dealing with his ailing father, and persistent rumors that his two-and-a-half year long marriage is in trouble.