Exclusive
Khloe & Lamar Wouldn't Walk Away From Reality Show, Says Source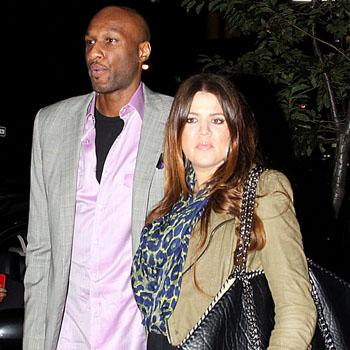 Article continues below advertisement
With the entire Kardashian series just picked up for a whopping $40 million, and Lamar without a current basketball job, the source said they believe the couple is trying to drum up viewers for Khloe & Lamar.
"I bet this is a ratings ploy," the source said. "He is doing this to make people watch it and make people want to see it since it might be ending.
"He doesn't seem like he's going to pick up and quit."
Since being traded from the L.A. Lakers to the Dallas Mavericks Lamar's basketball game has been in complete disarray.
"This show has been a major distraction for him to do his show during the basketball season," the source said. "He didn't realize how much it would district his life during the season."
The source also said that Khloe isn't the person to blame for pushing Lamar into reality TV.
"Lamar has wanted his own reality show forever," the source said.
Article continues below advertisement
"In 2009 he went to VH1 to pitch a show. Chad Ochocinco and Terrell Owens had shows and he wanted one too. The producers basically told him he was boring. He wanted to have his own show long before he met Khloe. Don't blame Khloe for dragging him into the show. He definitely wanted to do it. It was perfect for him when he met her."
As for the show returning when Lamar isn't trying to play basketball the source said they think that is a possibility.
"I could see him doing the show in the off season."
Enamored with the lifestyle being married to a Kardashian has afforded him, the source doesn't think Lamar would walk away from the show now.
"Lamar really likes the fame that he has now. He makes good money. He's into the whole scene. It is very easy to get caught up in everything.
"Lamar is a talented guy, but he's definitely not going to want the show money to go away while he's waiting to sign a contract."