Lamar Odom & Khloe Kardashian Tweet Memorials To Teen Crash Victim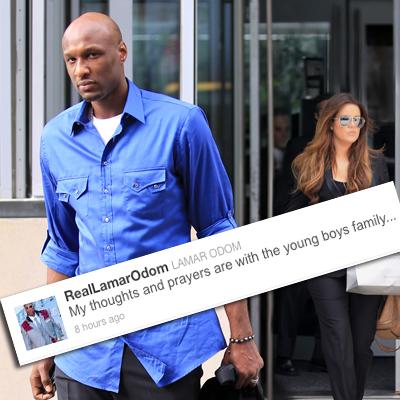 by Radar Staff
Tragedy has hit close to home for Lamar Odom and Khloe Kardashian.
The classy Los Angeles Lakers forward and his socialite wife each tweeted memorials late Monday, after a 15-year-old boy died just days after he was hit by a motorcycle that was hit by a car Odom was a passenger in.
The accident took place last Thursday in Jamaica, Queens, New York, where Odom was in town for a family funeral.
Article continues below advertisement
After the tragic death, Odom tweeted: "Thank you for your support and prayers! My thoughts and prayers are with the young boys family."
Khloe, on her page, wrote: "My heart/soul goes out 2every1 in pain from any suffering. Pray 4 all of the angels surrounding us constantly. May our spirits stay strong. Above all, love each other deeply, b/c love covers over a multitude of sins. Offer hospitality 2 1another without grumbling 1 Peter 4:8-9.