It's Game Time! Seven Things You Didn't Know About Patriots Star Player Rob Gronkowski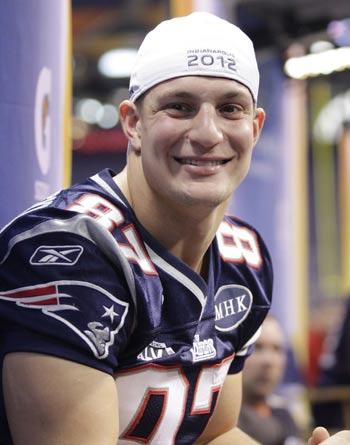 Article continues below advertisement
All eyes have been on Rob's left ankle, which he injured nearly two weeks ago in a win against the Baltimore Ravens. After wearing a protective boot for the first few days in Indianapolis, he has now been practicing and is expected to play on February 5.
Even halftime show performer Madonna has been talking about Rob's high ankle sprain! "A lot of people say I'm a masochist," said the Material Girl, when asked how she would cope with the same injury, according to USA Today. "I would just tape my ankle, take an anti-inflammatory and get my butt out there."
RadarOnline.com has put together the definitive guide to all things "Gronk," just in time for his match-up against the New York Giants on Super Bowl Sunday!
7. After being born in Amherst, New York in May, 1989, Rob grew up in Buffalo where he began his illustrious career playing football for Williamsville North High School as a tight end, and as a center for the basketball team. He went on to travel west to attend the University of Arizona, where during his freshman year he recorded 28 receptions for 525 yards and six touchdowns.
Article continues below advertisement
6. Sport is certainly in Gronkowski's genes – his grandfather, Ignatius, was a member of the U.S. Olympic cycling team in Paris, and dad Gordon played for the Syracuse University football team for three years as an offensive guard. Rob is second-youngest of five brothers who are all equally as athletic! The oldest, Gordie Jr. is currently playing minor league baseball for Southern Illinois, while two others are also in the NFL, Dan as a tight end for the Cleveland Browns and Chris is currently with the Indianapolis Colts (and living in the same city that Rob will soon play in the game of a lifetime!)
5. All sports talk has recently been about Rob's bombshell second year at the Patriots, but his rookie season was not to be taken lightly. After being drafted by New England in the second round of the 2010 NFL draft as the 42nd overall pick, the 6'6" machine bolted out of the locker room and ended his first year with 10 touchdowns and 546 receiving yards. In 2011, the mountain of a man literally blew away the competition and enters Super Bowl weekend with 17 TDs and 1327 receiving yards, after breaking the NFL record for the most touchdown catches in a season by a tight end during the December 11 win over the Washington Redskins.
Article continues below advertisement
4. Not only is he a beast when in uniform, Rob and his brothers have proven to be a marketing machine as well. Always active on Twitter and Facebook, Rob, Dan and Chris have a website called Gronknation dedicated to them, including clips of their biggest on-and-off the field moments and personalized memorabilia.
3. While Tim Tebow had fans dropping down on one knee into the prayer pose, Gronkowski's signature move of spiking the ball after he scores is a lot more aggressive! "Spike it hard, as hard as you can," Rob advises to imitators who are copying his celebration across the country. The 'Gronk Spike' has even made it into UrbanDictionary.com, which defines it as " the action of forcing an object (usually a football) into the ground with tremendous force as a way of celebration."
2. He can't speak Spanish! When interviewed by ESPN Deportes after the Patriots win over the Baltimore Ravens in the AFC Championship game in which he had a team high of 87 receiving yards, Gronk proved his linguistic skills were far weaker than his football moves. When the correspondent asked each question in Spanish, the TE looked increasingly confused and answered one detailed game question with, "Hola, me llamo Roberto." The hilarious highlight of the Spanglish interaction was when asked how he was going to celebrate the big win, El Gronko quipped "Si. Yo soy fiesta," translated as "Yes. I am party."
Article continues below advertisement
1. Just two years into his professional career, the 265-pound sports star has already had his first tabloid scandal. During the Patriots bye weekend last October, Rob went back to Phoenix, Arizona to catch up with old college friends and was snapped posing with porn star Bibi Jones, who quickly posted the pic on her Twitter page. While the meeting was innocent and both parties deny anything happened, the sexy shot of ripped Rob shirtless and pretty Bibi wearing his football jersey quickly spawned an Internet scandal. "He wanted me to get him more Twitter followers," claimed Jones, while Gronk quickly apologized for causing any embarrassment. "I didn't intend anything to hurt the reputation of anyone on the New England Patriots or on behalf of Robert Kraft," he said, referencing the team's owner. "It's just a simple picture, that's all."