Seven Things You Didn't Know About Birthday Girl Betty White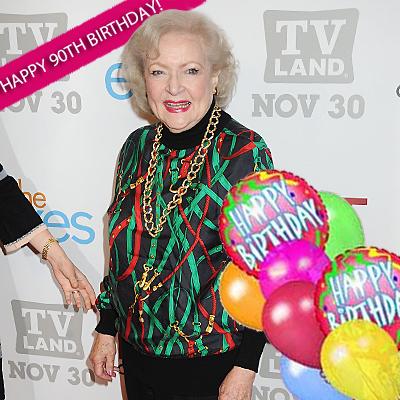 Show biz icon Betty White turns 90 Tuesday and we wish her the happiest of birthdays. She recently joked at the People's Choice Awards that "90 just happens! I didn't do anything!" but we know the actress has a legendary resume, touching the lives of millions by simply entertaining them.
As big a Betty fan as you are, we've uncovered a list of seven things you may not know about America's favorite Golden Girl.
Article continues below advertisement
7. She was originally offered the role of sexpot Blanche Devereaux on The Golden Girls, based on her previous role of "Happy Homemaker" Sue Ann Nivens on The Mary Tyler Moore Show. Conversely, the late Rue McClanahan was offered the role of the dim-witted Rose based on her work on Maude. The director of the pilot made the sage decision to switch things up, since audiences had essentially seen the actresses in those roles. When White reluctantly took the part, the show's producers urged White to play Rose not as as if she's slow, but rather "terminally naive, a person who always believed the first explanation of something."
Watch a clip from NBC's Betty White's 90th Birthday Special
6. She reprised the Rose role on three other shows besides The Golden Girls: The Golden Palace in 1992, Nurses in 1991, and Empty Nest in 1988.
5. While her near 20-year marriage to game show host Allen Ludden is best remembered, Betty was actually married twice before Ludden. White's first marriage to Frederick R. Barker lasted just five months in 1945, while her second marriage, to actor Lane Allan, ended after less than two years in 1949.
Article continues below advertisement
4. She's currently a Grammy nominee: Betty is vying for the Best Spoken Word Album (Includes Poetry, Audio Books & Story Telling) award for her audio book, If You Ask Me (And Of Course You Won't). She's matched up against some lofty opponents: Hamlet (William Shakespeare), Fab Fan Memories - The Beatles Bond and Tina Fey's Bossypants. We'll find out if she prevails next month.
3. She's first woman to ever win an Emmy for a game show. Betty took home the prize for her hosting efforts on NBC's 1983 game show, Just Men!, which lasted just three months. She'd later make cameos on game shows such as Win Lose or Draw, Hollywood Squares and The Price Is Right.
2. She's a forest ranger: White -- famous for her love of animals -- was made an honorary ranger by the U.S. Forest Service last year. Turns out, she long aspired to have the job when she was growing up, but the forestry did not employ female workers at that time.
1. The Hot In Cleveland star is an alum of Beverly Hills High School; other famous alumni of the school included A-list Oscar winners Angelina Jolie and Nicolas Cage, rock royalty Lenny Kravitz, and funnyman Albert Brooks.