ON YOUR RADAR: Biggest Feuds Of The Year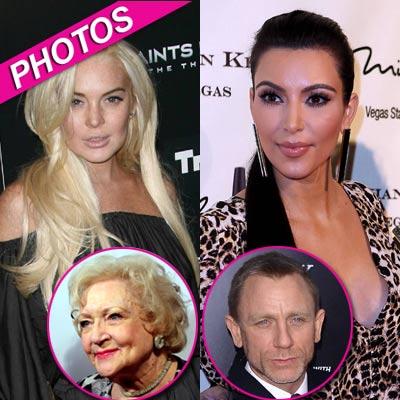 2011 was the year of the celebrity feud!
It seemed that everyone was bashing the Kardashians! After Kim's extravagant marriage to Kris Humphries that she ended after just 72 days, the reality-TV first family really fell from grace.
Michelle Obama was first up, sharing that Barack does not like their two young daughters watching the Kardashian shows. A slew of celebrities followed suit, with Daniel Craig, Cher, Reese Witherspoon and Chelsea Handler amongst the stars slamming the Kardashian's.
Article continues below advertisement
PHOTOS: Biggest Celebrity Feuds Of 2011
Elizabeth Hasselbeck and Bill Maher have been verbal sparring partners for some time, but their feud kicked off to a whole new level when the comedian made an appearance on The View. In a cringe-inducing confrontation Hasselbeck tackled Maher over jokes he made at her expense during his late night HBO show. Never one to back down, or apologize, Maher stood his ground against the right-wing host, culminating in a hilarious exchange at the end. "You're so brilliant, wow, I actually feel smarter sitting next to you," Hasselbeck taunted Maher. "Really? I feel like I'm in high school next to you," he returned.
Outspoken Brit Kelly Osbourne is known for speaking her mind and not holding back, and the slimmed down star had her claws out for newly curvy Christina Aguilera in 2011. "She called me fat for years. I was never that fat," Osbourne said on E! Fashion Police in a discussion about the singer's appearance at the Michael Jackson tribute concert. It was Osbourne's second public tirade of the year over the Dirrty singer. "She called me fat for so many f***ing years," Osbourne ranted in September. "So you know what? F**k you! You're fat too."
Article continues below advertisement
A weight war erupted when Giuliana Rancic seemingly called out LeAnn Rimes over her super slim frame. "She lost a lot of weight from all the stress in her life," Rancic said. "She seems a little thin right now and I think she looks great when she's a bit curvier." A Twitter feud ensued with the two stars battling back and forth, but peace won out, with Giuliana and LeAnn eventually making up over drinks.
Real Housewives of Atlanta stars NeNe Leakes and Kim Zolciak bring the drama both on and off the camera. The two frenemies continued fighting throughout 2011, taking pot shots and swipes at each other at every opportunity. The year kicked off with a screaming match on Kim's tour bus, when NeNe got in her face and had to be pulled off of her. Then, tempers exploded on February's reunion show: "When you called my assistant a slave I'm going to say 'F-you, b***h," Kim shouted at Nene. "You basically treat her like one, honey," NeNe snapped back. "That's none of your business!" Kim screamed.
Article continues below advertisement
An unlikely feud occurred between Bam Margera and Roger Ebert after the film critic posted a controversial tweet about the reality star's close friend Ryan Dunn, who died in a fiery car crash in June. "Friends don't let Jackasses drink and drive," Ebert wrote, to which Margera angrily responded, "I just lost my best friend, I have been crying hysterical for a full day and piece of s**t roger ebert has the gall to put in his 2 cents about a jackass drunk driving and his is one, f**k you!"
PHOTO: LiLo Attends Jay-Z Concert Night Before Court
In what had to be one of the oddest tiffs in Tinseltown, Lindsay Lohan and Betty White went to war in April. The celebrity catfight started when the Golden Girl told the Daily Mail that she "cannot stand" celebrities like Lindsay and Charlie Sheen. White reportedly said: "They party too much, don't learn their lines, are unprofessional and they grumble about everything." The troubled 25-year-old shot back with, "Wow! I've always been a fan of hers. It's just a bit strange when people feel they must speak publicly about others. Especially a grown woman."
And the list goes on!
Zach Galifianakis Vs. January Jones; Len Goodman Vs. Maksim Chmerkovskiy; Simon Cowell Vs. Nicole Scherzinger; Steve Harvey Vs. Mary Harvey; Jennifer Hudson Vs. Joy Behar; Caroline Manzo Vs. Teresa Giudice; Kyle Richards Vs. Brandi Glanville and Madonna Vs. Lady Gaga.
You can check out the whole list of the biggest celebrity feuds of the year here.