Round Two! Elisabeth Hasselbeck Faces Off With Bill Maher On The View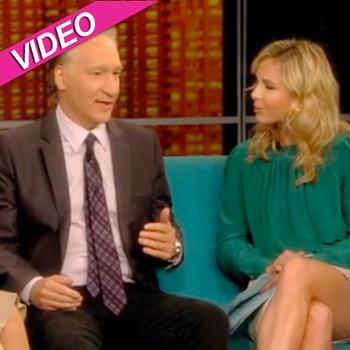 There's no love lost between Elisabeth Hasselbeck and Bill Maher, and the warring TV hosts exchanged angry words yet again on Tuesday in a bitter on-air standoff during The View, and RadarOnline.com has the explosive clip.
The animosity between the pair began when Maher aimed a jab at Hasselbeck on his HBO show last February while speaking about the sexual assault of CBS correspondent, Lara Logan.
Article continues below advertisement
"New rule: now that Hosni Mubarak has released Lara Logan, he must put her intrepid hotness on a plane immediately. In exchange, we will send Elisabeth Hasselbeck," he joked.
As RadarOnline.com previously reported, Elisabeth wasn't afraid to stand up for herself and hit Maher where it hurts by insulting his manhood.
"I try to only debate real men over the airways but will depart to address Billy Maher," she said when his offensive clip was aired on The View.
Nine months later and the right-wing host was still fuming as her nemesis sat beside her.
Maher managed to get Hasselbeck's hackles up straight away by making a dig at Republicans. "You can apologize in a couple of minutes, we'll get there," she snipped, predicting the argument to come.
After talking about the Jerry Sandusky case, she credited him for talking positively about women and then quickly changed the subject. "I just wanted to go back to a time that bothered me, not for my personal reasons but for women.
Article continues below advertisement
"Forgive this idiotic Republican for bringing this to your brilliant mind, but in February of last year, Lara Logan was in Egypt and she was brutally attacked there," she went on to repeat the offensive joke and said coldly, "You can't sit here right now and tell me I'm wrong for saying, 'That wasn't that funny.'"
Unfazed and refusing to back down, the HBO host replied: "We do a comedy show for an audience that's perhaps different than your audience," he said. "You are a public figure. It was not aimed at you personally, but when you are a public figure, you are out there and your fodder for comedians to make comments on."
When asked if he draws the line anywhere, he said: "I do draw the line, but I also live on the line."
Instead of sticking up for her co-host, Joy Behar backed up Maher as a fellow comedian. "We walk the ledge. It's not easy," she explained.
"Somebody has to be out on the edge to know where the edge is," Maher claimed, to which Hasselbeck snapped sarcastically, "Thanks for being the hero."
When asked if he'd make the same joke again, he just looked frustrated and said: "If I had a crystal ball and knew I was coming here and had to spend my whole segment talking about it, no I wouldn't."
Article continues below advertisement
Despite everyone except Elisabeth appearing eager to move on, she held on to her anger like a pitbull throughout the segment and after Maher threw a jab at Republicans, she said, "You're so brilliant, wow, I actually feel smarter sitting next to you."
"Really? I feel like I'm in high school next to you," Maher returned.
Watch the heated exchange below: