TV Reporter Lara Logan Recovering At Home After Brutal Sexual Assault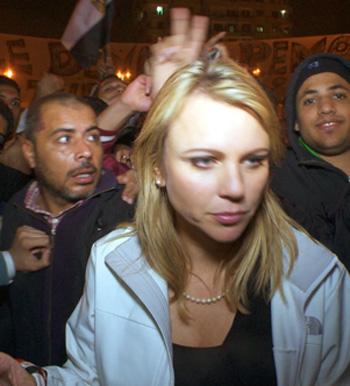 CBS News' chief foreign affairs correspondent Lara Logan has returned home, where she's recovering after suffering a beating and sexual assault last week while covering the protests in Egypt, RadarOnline.com has learned.
Last Friday, after Egyptian president Hosni Mubarak finally left his post after nearly three weeks of riots, Logan and her crew "were surrounded by a dangerous element amidst the celebration" in Cairo's Tahrir Square, CBS said. The network added there were as many as 200 onlookers "whipped into a frenzy" by the day's events.
Article continues below advertisement
Logan, according to the network, suffered "a brutal and sustained sexual assault and beating" until a pack of women and about 20 soldiers came to her aid.
As many as 140 journalists -- including CNN ace Anderson Cooper -- have been attacked since demonstrations began January 30. An Egyptian reporter died after he was shot during one of the protests, according to the AP.
Logan was born in South Africa. The 39-year-old has been with the network since 2002.