Exclusive
DOCUMENTS: Bill Maher Paid $850 For Weiner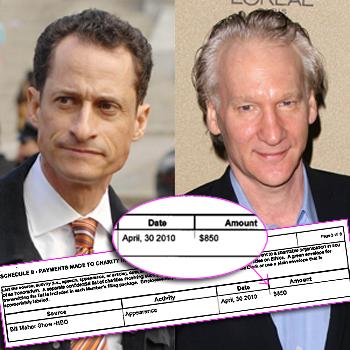 RadarOnline.com Staff Reporter
It pays to be Weiner.
DOCUMENT: Weiner's Financial Statement
In documents released Wednesday, Anthony Weiner reported that he received $850 from the Bill Maher HBO show in April of 2010. The personal financial disclosure statement he filed as a member of Congress detailed the $850 amount under "Payments Made To Charity In Lieu Of Honoraria."
Wiener has been a frequent guest on Maher's political show, and made a sexually explicit reference to his appearances in messages to Vegas blackjack dealer Lisa Weiss, one of the many women he was sexting with while married to his wife Huma Abedin.
Article continues below advertisement
When Lisa wrote to the Congressman: "Didn't think I could love you more until I saw you on Bill Maher tonight," he responded: "Maybe Maher will let me do you on his desk. Since u like me there."
Since Weinergate broke wide open following his tearful press conference when he admitted to having "inappropriate" relationships with at least six women, the Democratic congressman from New York has entered rehab to "seek professional treatment to focus on becoming a better husband and healthier person."