Wife Of 'Shirtless Congressman' Chris Lee Rushes To His Side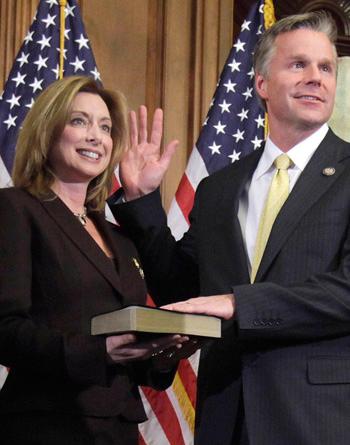 Article continues below advertisement
Chris Lee, a second term Republican Congressman representing Buffalo, New York, sent a decidedly cheesy photo of himself -- shirtless and flexing as he stood before a bathroom mirror -- to a woman he encountered on Craigslist.
The two sent numerous messages back and forth before the woman, Yesha Callahan, realized who she was corresponding with and went public.
He resigned his seat within two hours of the indiscretion hitting the news.
The Lees are now reportedly at the gated Ocean Reef Club estate his wealthy father Patrick owns in Key Largo, Florida. His father was one of those who pushed for Lee's lightning fast resignation, a source said.
Wife Michele is said to be "absolutely humiliated" but still hoping to work things out with her errant spouse.
RELATED STORIES:
FIRST PHOTOS: Cheating Governor Mark Sanford Caught On Beach With Argentine Mistress