FIRST PHOTOS: Cheating Governor Mark Sanford Caught On Beach With Argentine Mistress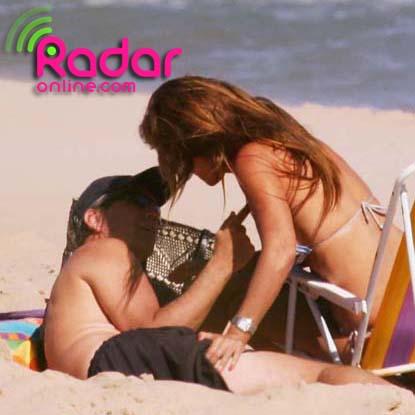 For the first time, we're seeing intimate photos of Mark Sanford -- the lovelorn former Governor of South Carolina -- and the Argentine mistress that cost him both his wife and high-profile political career.
FIRST PHOTOS: Gov. Mark Sanford On The Beach With Mistress
The revealing photos -- snapped in Punta del Este, Uruguay last Saturday -- show Sanford, 50, and Maria Belen Chapur, 43, sunbathing at the beach, and in one shot, we see Chapur appearing to lean in for a kiss.
Article continues below advertisement
These are the first photos of the couple looking intimate and appearing to be clearly in love.
Earlier Thursday, An Argentinian website posted a photo of the couple simply walking together, and called it "the first known photo of the two of them together." The site did not give details of where or when the photos were taken.
As RadarOnline.com has previously reported, Sanford was embroiled in scandal two years ago when he went AWOL for a several days; while his camp said he was on a hike of the Appalachian Trail, the then-married politician, a father-of-four, later admitted to visiting Chapur, his mistress -- a woman he once referred to as his "soul mate".