Jackass Star Ryan Dunn Killed In Car Crash; Police Say Speed May Have Been A Factor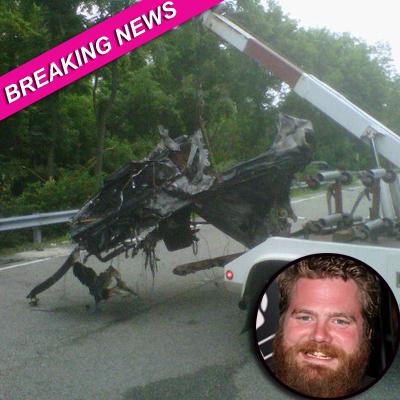 Jackass star Ryan Dunn has been killed in a fiery car accident in Pennsylvania, and police tell RadarOnline.com that speed was possibly a factor in the crash.
Police tell us that Dunn, 34, and another person died in the crash which happened around 2:38 am Monday on Route 322 and New Street in West Goshen Township, PA. Authorities say the 2007 Porsche was engulfed in flames when they arrived on the scene, and that the car had gone off the road and into the woods.
Article continues below advertisement
Authorities say Dunn was the driver. At this time, they will not release the name of the passenger in the car, pending notification of relatives.
DOCUMENT: Read The Police Press Release
Only a few hours before the crash, Dunn had tweeted a photo of himself and some friends drinking what appears to be alcohol; however, at this time, it's too early to know if alcohol did in fact play a role in the accident.
West Goshen Police Chief Michael Carroll told RadarOnline: "Preliminary investigation revealed that speed may have been a contributing factor to the
accident."
Dunn appeared in all three of the Jackass films, but his first appearance is among the most craziest in the franchise. For the skit, he inserted a small toy car into a condom, then into his rectum. He then visited a doctor and complained of pain, only for the doctor to take x-rays and discover that a small car was lodged inside his body.
Article continues below advertisement
In addition to the Jackass movies, the charismatic Ohio native also appeared in MTV's Viva La Bam, and Homewrecker.
Dunn also appeared in an episode of Law & Order: SVU, and this year, he also had roles in small budget films including Welcome to the Bates Motel, Booted, and Close-Up.
Other films he'd appeared in included Living Will..., Street Dreams and Minghags. A member of the CKY Crew, Dunn played the main character in Bam Margera's 2003 film Haggard, which was based on a failed relationship he had experienced.
Dunn -- who was known by nicknames including Random Hero, Plugs, Cryin' Ryan and Prima Dunna -- flaunted a number of eye-catching tattoos. Among them: an addition sign, a math problem, the Blair Witch logo, the BMW emblem, and the Red Hot Chili Peppers emblem.
Dunn had several brushes with danger, according to iMDb: he broke his eye socket at just 7-years-old in a bicycling accident; broke his wrist at 16 in a skateboarding accident; and flipped over a car (also containing Jackass co-stars Bam Margera and Chris Raab) on Route 202.
Article continues below advertisement
Ryan celebrated his 34th birthday on Saturday, June 11.
MTV released this statement via Twitter regarding the death of Ryan Dunn:
"We're deeply saddened by the passing of a member of the MTV family, Ryan Dunn. Our hearts and thoughts are with his friends and family."
Story developing…
Jackass Star Tweeted Pic Of Himself Drinking Prior To Car Crash