Steve-O Too Distraught To Talk About Ryan Dunn's Death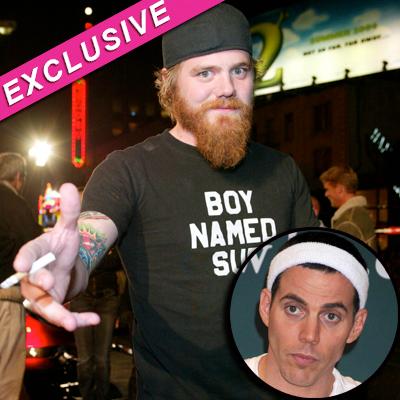 by RadarOnline.com Staff
Stephen "Steve-O" Glover was too shocked to comment Monday morning about the sad news that his friend and Jackass co-star Ryan Dunn had been killed in a car accident in Pennsylvania.
RadarOnline.com spoke to Steve-O shortly after he learned the news; he indicated he was too devastated to comment at this time.
DOCUMENT: Read The Police Press Release
Dunn appeared in all three of the Jackass movies, alongside Steve-O, but Dunn's first appearance was particularly memorable. Jackass: The Movie featured a skit in which Dunn placed a toy car in a condom which he then inserted in his rectum. He then visited a doctor and complained of pain, only for the doctor to take x-rays and discover that a small car was lodged inside his body.
Article continues below advertisement
Steve-O was originally supposed to do the bit, but he ultimately refused, saying that his father would supposedly disown him if he went through with it.
As RadarOnline.com previously reported, Dunn, and other person, were killed at 2:38 am Monday in a car accident on Route 322 and New Street in West Goshen Township, PA.
Authorities say Dunn was behind the wheel of the 2007 Porsche. At this time, police are not releasing the name of Dunn's passenger, pending notification of next of kin.