Michelle Obama: Barack 'Doesn't Like' Daughters Watching Kardashians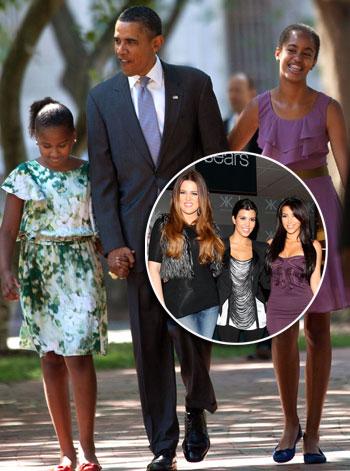 Seems reality TV isn't everyone's must-see!
Michelle Obama opened up to iVillage recently about her home life and talked keeping fit, bargain shopping at Target and America's OTHER first family — The Kardashians.
The devoted mom of Malia, 13, and Sasha, 10, explained to the website that her daughters have regulated television times and that some shows are off limits.
"Barack really thinks some of the Kardashians - when they watch that stuff - he doesn't like that as much," Mrs Obama revealed, "but I sort of feel like if we're talking about it, and I'm more concerned with how they take it in - what did you learn when you watched that? And if they're learning the right lessons, like, that was crazy, then I'm like, okay."
Article continues below advertisement
After being photographed looking like an ordinary Target shopper earlier this fall, the First Lady admitted that she misses being anonymous.
"The ability to walk out through a door and go for a walk on any given day. It's also being among people in a normal set of interactions. You forget how important that is just in establishing who you are in the world."
She explained that her undercover Target trip gave her a feeling of normalcy.
"So me being able to sneak out and do that - standing, ordering an ice cream cone and having the kid behind the counter ignore me just like he's ignoring everyone else he's serving - it's refreshing."
And just like every other woman out there, the First Lady wants to look good, admitting her commitment to fitness stems from vanity.
"It's like a picture in the newspaper that looks crazy is my motivation. It's like, Oh my God, is that me?"
Article continues below advertisement
She advises her friends to invest five weeks in exercise, and that by then, it should become fun!
And what's on her ipod? Obama said that her workout motivation is courtesy of Beyoncé, Jay Z, Janelle Monae, Sting, The Beatles, Mary J. Blige and Michael Jackson.
You can read Michelle Obama's extensive interview on the iVillage website.
What do you think about the president's view about the Kardashians? Go to our Facebook page and tell us!