Michelle Obama: 'I Actually Took Bo To Petco!'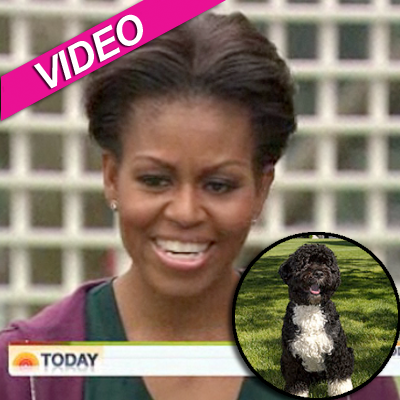 Just because she's first lady, Michelle Obama is not one to pass up a bargain.
The first lady, who was recently snapped shopping at a Virginia Target store, told The Today Show's Al Roker on Wednesday she tries to get out and run errands like a normal person "as much as possible."
The Chicago native said, "I actually took the family dog Bo to Petco! The cashier asked me, 'Oh, what kind of dog is that?' I said, 'A Portuguese water dog.'
Article continues below advertisement
"He didn't recognize us because he didn't expect that we would be in Petco," she said, noting the cashier only realized who she was after she paid for her purchase via credit card.
"They're looking right through you; they don't know it's me," she said of the element of surprise to see the first lady running chores. "People realize and it's amazing how people don't recognize you; they don't expect to see me at Starbucks or at Chipotle."