Exclusive
CONTROVERSY: New Comic Depicts President Obama & First Lady Michelle In Bed With Fugitive Gaddafi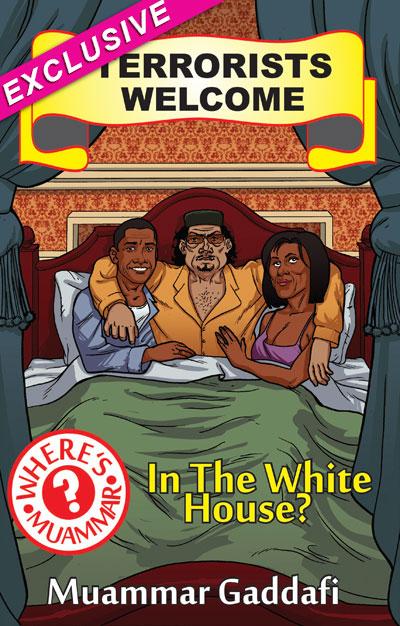 By Amber Goodhand - RadarOnline.com Reporter
A controversial new comic book features fugitive and Libyan President Muammar Gaddafi flanked by President Barack Obama and First Lady Michelle Obama -- in bed!
In the comic book Where's Muammar? exclusively obtained by RadarOnline.com, Bluewater Comics figuratively suggests he may be "in the White House" and it's sure to cause some uproar.
Bluewater president Darren G. Davis says: "Libya has been in the news in recent months and when (comic book creator) Jarred came to me with this idea that was so unique and out there, I couldn't resist."
Article continues below advertisement
"We have made headlines for our comic book series on politicians and stars from sports, music, movies and television, we wanted to try something new."
Creator Jarred Weisfeld calls Gaddafi the "modern day Houdini." Gaddafi's rule over Libya ended this year after his nation went to war to oust him from power, which world leaders cheered on, and he's been laying low and on the run from rebel forces ever since.