Lindsay Lohan, Covered In Blood And Wielding A Knife In New Photo By Tyler Shields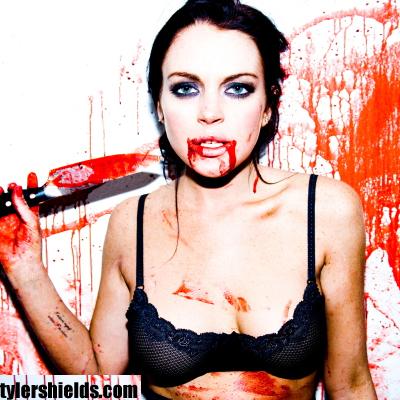 - RadarOnline.com Senior Reporter
Lindsay Lohan is covered in blood and holding a knife in a provocative new photo obtained by RadarOnline.com.
Don't worry, she hasn't murdered anyone and she probably isn't a vampire either, it's a new picture released by the innovative photographer Tyler Shields.
The 25-year-old star is shown in all her bloody gory, channeling Megan Fox from Jennifer's Body, holding a knife while she's drenched in the blood.
Article continues below advertisement
Tyler, a favorite photographer for hip young Hollywood stars, is one of Lindsay's closest friends. She's been one of his photography subjects for several years. His large format images have sold for up to $20,000!
"She's just so daring," Shields said about Lohan in an interview he gave to Art Info. "She's a character in herself and she is very good at it. I shoot her a different way than I think anybody else shoots her, and I think she knows that and I know that and I think we compliment each other very well."
Lindsay is spending some time in New York with her family after a summer in Los Angeles where she was confined to house arrest. Her upcoming film project the Gotti movie is scheduled to start shooting in January.
She is also under pressure to complete her court-ordered community service and counseling within the allotted time.
RELATED STORIES:
Ali Lohan Scores Modeling Contract 'Not Because Of Her Famous Last Name'