PHOTOS: First Lady Michelle Obama Steals The Show In Stunning Gown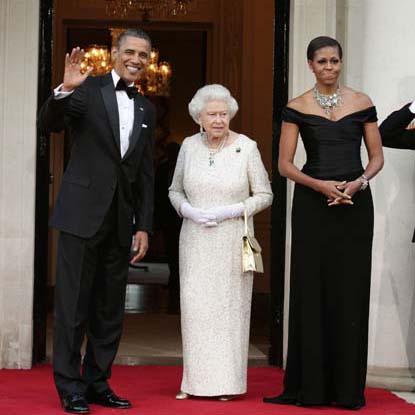 It's not easy to show up the Queen, but that's exactly what First Lady Michelle Obama did Wednesday night in London.
Mrs. Obama stunned in an off-the-shoulder black Ralph Lauren gown from his Fall 2011 collection, paired with an elaborate jeweled necklace with matching bracelet.
The President and Mrs. Obama played host for a reciprocal dinner for Queen Elizabeth II and the Duke Of Edinburgh at Winfield House, a mansion that's the official residence of the U.S. Ambassador to the UK.
Article continues below advertisement
The Obamas hosted the banquet in honor of the Queen after they attended the Queen's banquet at Buckingham Palace the night before.
The Obamas have now left London; they arrived in the seaside resort of Deauville, France on Thursday.
The President is there for two days of meetings with G-8 world leaders to find ways to support fledgling democratic transitions in Tunisia and Egypt, while also creating incentives to encourage other countries in the region to pursue greater political freedoms.
Presdient Obama will also hold one-on-one meetings with Russian President Dmitry Medvedev, French President Nicolas Sarkozy and Japanese Prime Minister Naoto Kan.
While both Obama and Medvedev have worked to improve relations between their former rival nations, tensions remain.
Meanwhile, Obama's meeting with Kan will be the first between the two leaders since the devastating earthquake and tsunami in northeastern Japan in March.
The G-8 comprises the U.S., Britain, France, Germany, Italy, Canada, Russia and Japan. The European Union is also represented in talks.