VIDEO: NeNe and Kim Reignite War of Words On Real Housewives Reunion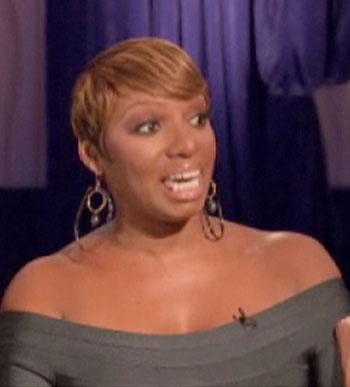 It's déjà vu all over again on Sunday's episode of the Real Housewives of Atlanta reunion show as not-so-neighborly neighbors NeNe Leakes and Kim Zolciak go at it once again over their tour bus brawl that occurred during the highest-rated Housewife season yet.
Only Kim couldn't get a word in edgewise.
VIDEO: Kim And NeNe Reignite Their War Of Words
"I don't accept verbal abuse very well...you said 'F-you, b***h' several times...I'm not going to sit with a group of people and listen to someone talk down to somebody," NeNe yelled at Kim. "I'm not going to sit in a conversation and somebody point their hand in my face and say 'F-you, b***h' several times. I'm going to react.
Article continues below advertisement
"I think you can dish it out but you can't take it...when you start doing those things, you can't do that to everyone."
The ladies were referring to the on-camera fight aired last month when NeNe questioned Kim's treatment of her assistant, Sweetie.
Kim tried to defend herself as voices were raised and arms thrown into the air.
MUGSHOT: NeNe Leakes's Son Bryson Bryant
"When you called my assistant a slave I'm going to say 'F-you, b***h," she said.
"You basically treat her like one, honey," NeNe snapped back.
"That's none of your business!" Kim shouted.
The leading ladies of Atlanta will join Andy Cohen to dish on their season of marital meltdowns, premarital panicking and due-date discrepancies. Watch for Kandi Burruss dispel the truth about her music transaction with Kim and the ladies confront Phaedra Parks about her pregnancy controversy.
Reunion Part I airs Sunday, February 13 at 10PM ET/PT on Bravo.