EXCLUSIVE: Real Housewives Of Atlanta Get Rough In Season 3, Welcome New Cast Members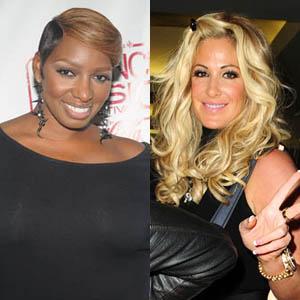 Sparks are flying behind the scenes on The Real Housewives Of Atlanta as NeNe Leakes and Kim Zolciak's relationship goes from bad to worse, RadarOnline.com can reveal.
The pair - who have endured a love-hate relationship since the Bravo network reality show first began - is NOT getting along again and it was all triggered by a fight on Season 3.
And RadarOnline.com has learned things have gotten so bad that NeNe is now refusing to travel with the other cast members because she feels alienated by Kim.
Article continues below advertisement
A source close to the show told RadarOnline.com: "Things got rough again between NeNe and Kim after they were filmed having a fight for the new series at a hotel in Buckhead, Atlanta."
"NeNe has been saying a lot of nasty things about Kim and her reported relationship with 24-year-old Atlanta Falcons player Kroy Biermann. And Kim has been taunting her about dating NFL player Charles Grant although she's married to Greg Leakes."
The source continues, "Both women are not getting along very well right now and this could be NeNe's last season on the show. She has got a successful slot on one of the Atlanta morning news shows and she is trying to raise her profiles in other areas too."
"It is going to be very interesting to watch Kim and NeNe when they start promoting the new series which will air later this year."
In Season 3 viewers will see sparks fly between new cast member, entertainment attorney Phaedra Parks and both NeNe and Kim.
Article continues below advertisement
While the other new cast member model Cynthia Bailey will also have some colorful storylines too as she interacts with her castmates.
Original cast member Lisa Wu Hartwell will appear in a few episodes of the new series with her husband retired NFL star Ed Hartwell when Season 3 debuts on Bravo later this year before bowing out for good.
RELATED LINKS:
EXCLUSIVE: Shakeup On The Real Housewives Of Atlanta