Christina Aguilera Pours Her Ample Curves Into Skimpy Costume For Jackson Tribute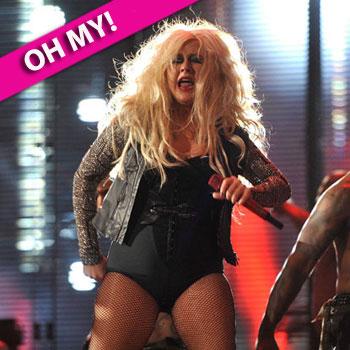 Christina Aguilera poured her very ample curves into a skimpy corset and fishnets as she performed at the Michael Jackson tribute concert in Wales on Saturday, and RadarOnline.com has the stunning photos.
With her oh-so-unflattering outfit plus her blonde hair extensions looking wild and unkempt, the 30-year-old singer drew gasps from the audience.
And while her performance of Charlie Chaplin's 'Smile' - one of the King of Pop's favorite songs - was a hit, her ensemble hit a seriously bum note.
Article continues below advertisement
The too-tight outfit did nothing to complement her curves, which has earned her both praise and criticism in the past.
She did change into a more demure outfit later for a second set, but it was her Lady Gaga-inspired get-up which stuck in the minds of the 40,000 fans who had turned up to show their support for Jackson's memory.
Aguilera joined the likes of Cee Lo Green, Jamie Foxx and Smokey Robinson for the show called Michael Forever.