Jackass Co-Star Bam Margera Blasts Roger Ebert Over 'Drunk Driving' Tweet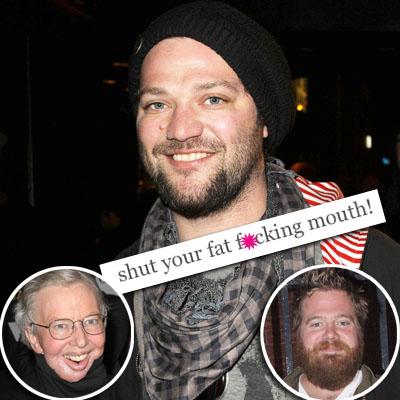 by RadarOnline.com Staff
Jackass co-star Bam Margera is blasting film critic Roger Ebert for his controversial tweets about his close friend Ryan Dunn, who died in a fiery car crash in West Goshen, Pennsylvania early Monday.
In his tweet posted late Monday, Margera wrote: "I just lost my best friend, I have been crying hysterical for a full day and piece of s**t roger ebert has the gall to put in his 2 cents about a jackass drunk driving and his is one, f**k you!" Bam tweeted to his nearly 394,000 followers. "Millions of people are crying right now, shut your fat f**king mouth!"
Article continues below advertisement
The firestorm started earlier in the day after a series of Ebert tweets on the accident. At first, the legendary Chicago critic simply posted: "Jackass' star Ryan Dunn, RIP. His Porsche flew through 40 yards of trees."
But then, after photos surfaced showing Dunn and two friends apparently drinking in a bar in the Philadelphia-area just hours before the crash, Ebert tweeted: "Friends don't let Jackasses drink and drive." ( We later learned that one of the men in the photos – 30-year-old Zachary Hartwell – was the other victim in the accident; Dunn was the driver).
In response to Ebert's tweet, blogger Perez Hilton then wrote, "Everyone makes mistake, and this is somebody's son. Too soon, Roger."
But Roger wasn't swayed.
"Perez Hilton's readers agree with me and not with Perez about my tweet on Ryan Dunn," Ebert wrote in response. "He drank, he drove, 2 people died."
The West Goshen police department issued an early report that did not cite alcohol as a possible contributory factor, but speed.