Betty White Proves She's Young At Heart With New Prank Show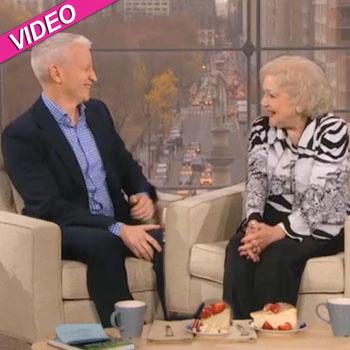 By Debbie Emery - Radar Reporter
Viewers are used to Betty White not acting her age, and now the 89-year-old actress is following in the footsteps of Ashton Kutcher with a naughty prank show, RadarOnline.com has learned.
The former Golden Girls star will appear on Tuesday's episode of Anderson where she dishes to the dashing host about her new project, and RadarOnline.com has a sneak peak of the entertaining encounter.
Article continues below advertisement
"I've got another one (show) starting after the first of the year, we have a comedy show starting with a hidden camera show," White told Anderson Cooper. "It's kind of like Candid Camera but this is oldsters pranking youngsters," she explained.
"I think we will have a good time."
When asked if she is a prankster, the Hot In Cleveland star replied coyly. "I don't know what you mean by that."
Anderson revealed to his guest that he'd had a bad experience with a prank show as a youngster.
"I was actually on Candid Camera. When I was a kid they taped something at my school but it went terribly wrong and they never aired it because they tricked me into something and I just burst out crying," explained Cooper.
Luckily, the grey-haired funny girl assured the CNN newsman that she would treat him better if he came on her show.
"I'm sorry. I promise I won't make you cry."
For the full interview, tune in to Anderson on Tuesday, December 6.
Article continues below advertisement