Butt Implant Fake Doctor Victim Lets Anderson Cooper Feel The 'Rocks In Her Face'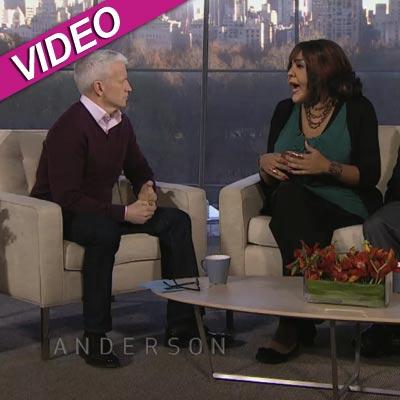 By Debbie Emery - Radar Reporter
The third victim of the fake transgender doctor who allegedly poisoned her victims with cement injections is sharing her agonizing experience with Anderson Cooper, and RadarOnline.com has a preview of the shocking episode.
Rajee Narinesingh revealed to the esteemed host on his talk show, Anderson, how she thought she was getting "medical-grade silicone injections," but instead she got a toxic mixture of cement, tire sealant and mineral oil blasted into her face, and she even let Anderson touch her damaged cheeks.
Article continues below advertisement
"They are like rocks!" said Cooper, when he poked the hard nodule.
As RadarOnline.com previously reported, Oneal Ron Morris was arrested last month when a victim came forward revealing the horrific side-effects that she suffered after getting what she thought were silicone injections pumped into her buttocks to get a more curvaceous figure.
When asked how it feels having to walk around permanently scarred, Rajee explained candidly that living as a transgender woman is hard enough but now she has this difficult situation to deal with as well.
"I know for the average person they would probably look at me and think, 'Oh my goodness how could someone go to a hotel room or someone's apartment for this sort of thing.'
"You know it would be common sense... I do realize that now. In retrospect, but it's one of those things you want so badly to match the way your outside feels with your inside, that you're willing to roll the dice and take chances."
Article continues below advertisement
The transgender woman bares the scars of her bad decision for all to see as rock hard lumps bulge from her cheeks, lips and chin, and she explained to Anderson why she gambled with a back-room doctor.
"As a transgender woman, I was on hormone therapy for a while and hormones only take you so far and then in order to take your transition further you need to do some sort of body work and facial work, so I went to her with that understanding," explained Narinesingh to flawlessly faced Anderson.
Anderson's audience is visibly disgusted as the victim attempts to describe her ordeal while struggling to speak because of the cement which literally froze parts of her face into a stony mask.
"I didn't have the resources financially," she went on to say. "Of course, if I had the money I would have gone to a plastic surgeon but I didn't," said the 48-year-old from Miami, Florida.
"Our community tends to be a little obscure and we're a pretty small population compared to other populations in the world so word gets around."
Article continues below advertisement
The patient of the budget-surgery revealed that she still feels pain from the nodules bulging under her skin.
"I do still feel facial discomfort...I do feel my face, I get like what you would call chronic pain, it's like a nagging pain," she told Anderson.
Narinesingh was joined on the show by her surgeon, Dr. John Martin, who has been performing life-changing treatment on her to reverse Morris' deadly injections.
Instead of cutting through soft skin when he attempted to give her a revitalizing face lift, the doctor hit hard cement that nearly snapped his scissors in half and the treatment took three hours instead of just 45 minutes.
"A doctor down in South America now is using a special liposuction cannon to try to break these up and suck them up and he's had some pretty good results," he explained.
Morris spoke for the first time to Entertainment Tonight on Wednesday, where she adamantly declared her innocence, reported RadarOnline.com.
Article continues below advertisement
"They didn't catch me doing anything so it's all just allegations," the 30-year-old suspect told the CBS entertainment show.
"I'm innocent, I really am innocent, or whatever," she claimed brashly.
Tune in to watch the full interview on Anderson on Monday, December 5.
Watch Anderson feel Rajee's face:
radar_embed service=5min.com src=" http://pshared.5min.com/Scripts/PlayerSeed.js?sid=1126&width=486&height=412&playList=517713354&sequential=1&shuffle=0"