Exclusive
Dead Or Alive's Pete Burns - What In The WORLD Happened?!!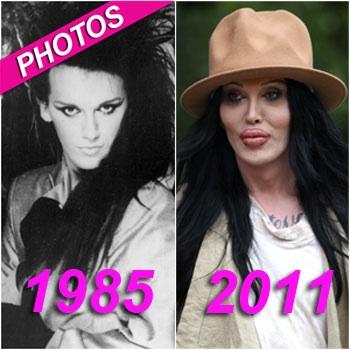 Do you think maybe he's had a 'little work done'?!!
As the lead singer of 1980's Brit hit band Dead or Alive, Pete Burns was once a heartthrob that many a teenage girl (and boy) swooned over.
PHOTOS: Pete Burns Out And About
But, now? Maybe not so much!
The former You Spin Me Round singer was spotted out and about Thursday shopping on the trendy Kings Road with his partner Michael Simpson, and the 51-year-old's face showed the signs of several drastic plastic surgery operations.
Article continues below advertisement
In his heyday Burns was renown for his strikingly individual, androgynous image, but he seems to have taken that to the extreme now.
The singer turned reality star has been open about his many surgery procedures, admitting to having polyacrylamide injections into his lips, cheek implants and several rhinoplasties.
In early 2006 he revealed that he had blown through most of his life savings on eighteen months of reconstructive surgery after a procedure on his lips went horribly wrong. He subsequently sued the plastic surgeon, Dr. Maurizio Viel for more than $1.5 million - they eventually settled out of court for just over $700,000.