Third Sexual Abuse Accuser Claims Bernie Fine Made Him Watch Porn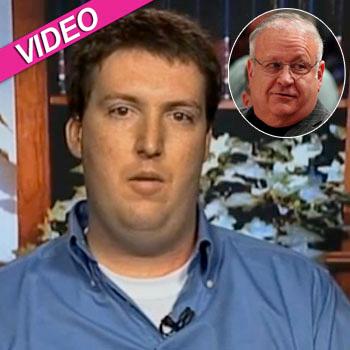 The third victim to come forward and accuse Bernie Fine of sexual abuse said the Syracuse coach made him watch porn and forced him to masturbate, RadarOnline.com has learned.
Zach Tomaselli gave details of the alleged abuse he endured to Anderson Cooper on Wednesday's episode of his talk show and RadarOnline.com has a preview of the dramatic confession.
As RadarOnline.com previously reported, the longtime assistant basketball coach was fired on Sunday in the wake of accusations that he molested three ballboys.
Article continues below advertisement
The 23-year-old claims he ended up in a hotel room with Fine after going to an autograph signing with his dad.
"At first Bernie put a pornographic show on the television and asked me to masturbate, then watched me masturbate for the first time in my life," Tomaselli, who was 13 at the time, alleges.
"Then moments later he sat on the bed next to me, fondling me and putting his hands down my shorts four to five times over the course of several hours."
Zach kept his heart-breaking secret to himself until three years ago, when he moved to Maine and met another victim of child abuse and the pair began sharing their stories.
While Tomaselli is adamant that Fine abused him, his own father maintains that his son never even met the coach.
"I was dropped off by my father in Syracuse and took a team bus that had a lot of support staff on it, none of the players that I noticed and not Bernie Fine, but that bus took me to Pittsburgh where I met up with Fine at the hotel room," the 23-year-old explained to Anderson, before making another bombshell accusation.
Article continues below advertisement
"My dad and I have a really tricky relationship," he revealed. "Towards the end of 2007, he found out that I was having a homosexual relationship that he didn't approve of.
"He believes strictly that homosexuality is pedophilia according to the bible and at that point he banned me from being a part of his family.
"He had abused me himself over the course of many years, close to a decade," Tomaselli alleges.
When asked by Cooper to confirm if his dad had sexually abused him, he said: "Yes, he had been abusing me four months before Fine had abused me and this continued through 19 years old."
Tomaselli's father has vehemently denied sexually abusing his son.
The CNN host pointed out that Zach himself has sexual abuse charges pending against him involving a 14-year-old boy.
"Gross sexual assault, unlawful sexual conduct among other things. I know you pled not guilty but some people may believe you are making these accusations against the coach, against your own father to somehow explain your own alleged behavior," said Cooper.
Article continues below advertisement
"It does not explain and is not an excuse for touching children, and I'm not saying I touched anybody, Anderson, but I am saying the situation was because there was a great disconnect in my mind between what is an appropriate relationship between an adult and a child," explained Zach.
If anyone doubts his accusations against Fine, Tomaselli told Anderson that he is willing to take a lie detector test and has proof at his parent's house that he was at the game.